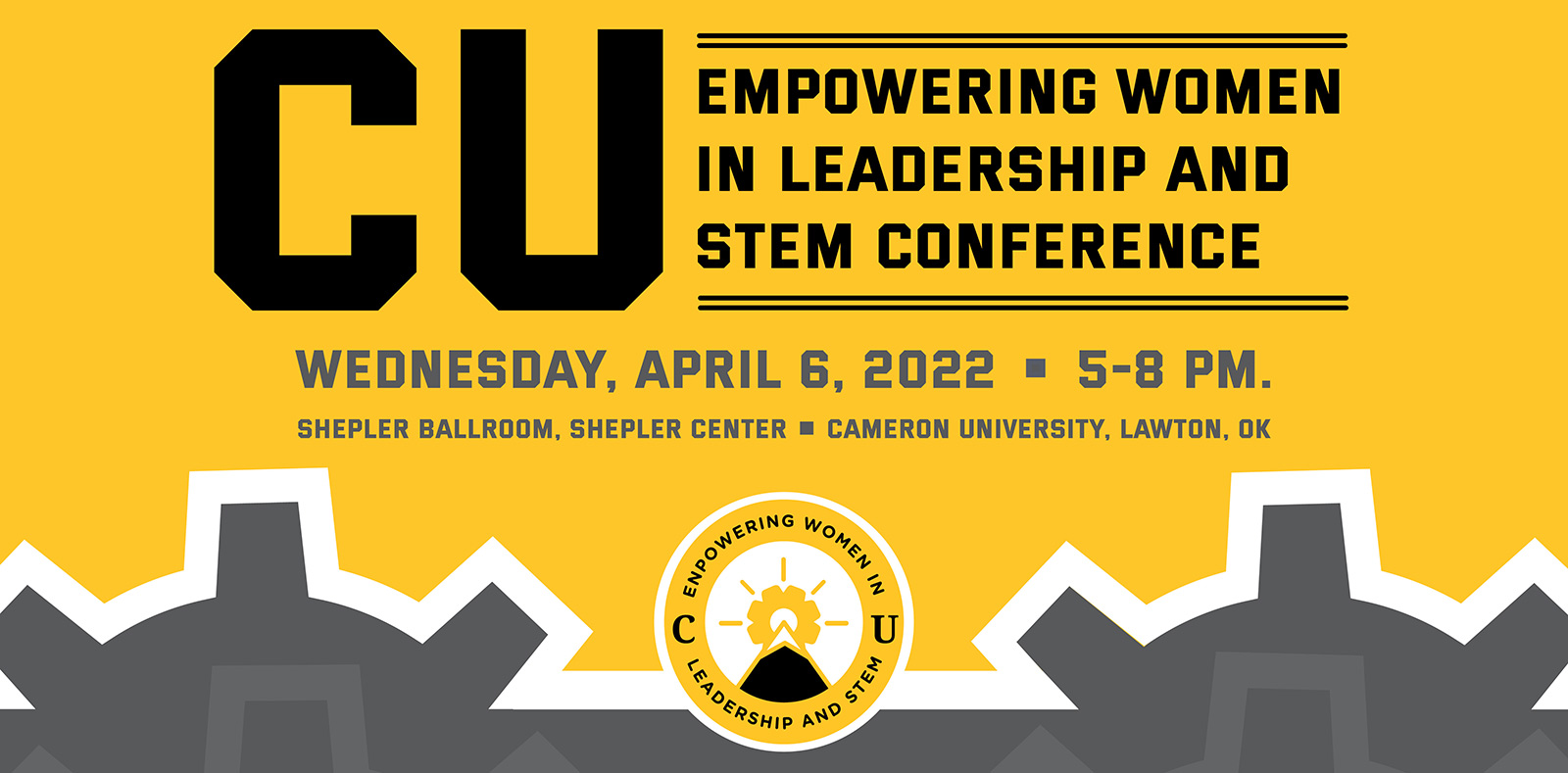 Cameron University will present CU Empowering Women in Leadership and STEM, a conference aimed at strengthening the leadership skills of women in southwest Oklahoma, on Wednesday, April 6. Dr. Kari Henry Hulett and Dr. Maria Gray will give a presentation entitled, "Lead Where You're Planted: Discovering Your Transformational Leadership Strengths and Applying Them Now." The presentation will focus on how attendees can maximize their success in the new world of virtual education and business.
Registrants who request to join the event via Zoom will receive a link on the Monday before the program. The program is open to the public at no cost and will be held in the Shepler Ballroom, located in the Shepler Center Complex. Due to COVID, seating is limited to 80 people, but early registrants can join by Zoom. If you are interested in participating, please register online at the link below.
Late registration will be available the day of the event starting at 5:00 pm outside the Shepler Ballroom.
"CU Empowering Women in Leadership and STEM" is sponsored by CU Lectures and Concerts and the CU Home Savings Bank Endowed Lectureship in Organizational Leadership. The CU Engineering Club will host the event.
For more information, contact Dr. Sheila Youngblood, syoungbl@cameron.edu or 591-8005.
Event Schedule


5:25 p.m. Welcome
The Walters High School Varsity Choir girls ensemble will be singing the National Anthem to start our conference. They are directed by the longest tenured voice teacher in Oklahoma, Mrs. Charla Dedmon.
5:30 p.m. Keynote
Dr. Kari Henry Hulett and Dr. Maria Gray will give a presentation entitled, "Lead Where You're Planted: Discovering Your Transformational Leadership Strengths and Applying them Now." The presentation will focus on how attendees can maximize their success in the new world of virtual education and business.
6:30 p.m. Reception/Networking
Between the keynote and the panel, appetizers will be served, and participants are encouraged to network and build further connections with local women in leadership.
7 p.m. Panel Discussion
Following their keynote presentation, Dr. Kari Henry Hulett and Dr. Maria Gray will participate in a panel discussion with other local women who served in leadership roles in our community. The panelists will be asked to share their personal journey to success, including roadblocks or detours along the way. There will also be an open Q&A for conference-goers to ask impromptu questions of the panelists.
Speaker and Panelist Bios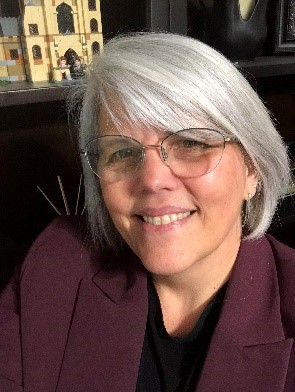 Dr. Kari Henry Hulett is an Assistant Professor of Educational Leadership at Northeastern State University, where she teaches graduate courses in Motivation Learning and Leadership, Instructional Methods, and Online Teaching and Learning. Dr. Henry Hulett has presented at state and national conferences on various topics, including leadership in the classroom, technology in education, faculty development and self-efficacy, and quality in distance learning.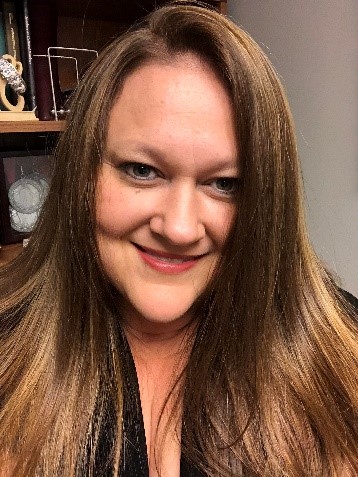 Dr. Maria Gray serves as Associate Professor of Leadership at Northeastern State University, where she teaches in the Master of Science in Leadership program. She is a member of the China Bridge Program and taught educational leadership in China in 2018. Maria presents at regional and national conferences on topics of leadership, women in leadership, English composition, and online teaching. Maria is a certified Phi Theta Kappa Leadership instructor and winner of several teaching awards, including the Oklahoma State Regents for Higher Education Online Excellence Award and the OSU A&M Regents Distinguished Teaching Award. Maria lives in Broken Arrow, OK, with her husband and two teenage daughters.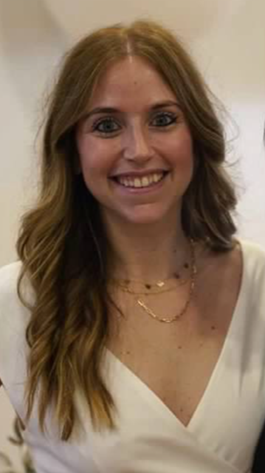 Kaitlan Brown is a 31-year-old e-Commerce Director in Fashion who has lived in New York City for just shy of 10 years – however, her journey started in Lawton, Oklahoma. Kaitlan was born and raised in Lawton; attended Whittier Elementary, Central Junior High [before it became the middle school] and graduated from Lawton High School [go wolverines!]. She was born and bred an Oklahoma State fan, and she was the 3rd generation to graduate with a degree in fashion.
While in college, Kaitlan joined a group of students headed to New York City looking for internships, which solidified her goals to move to the city that never sleeps. Taking advantage of as many internship opportunities as possible, Kaitlan interned at a showroom in Los Angeles between her sophomore and junior year. During her junior year, she studied abroad in London, taking advantage of another internship opportunity. In her senior year, Kaitlan interned at Lucky Magazine.
After graduating in 2012 and moving to New York, Kaitlan found an entry-level position at a children's clothing showroom called Parigi Group. After a year with Parigi, Kaitlan was contacted about joining Hunter Boots for an entry-level position on their e-commerce team. After three and a half years, Kaitlan was recruited as an e-commerce manager for the Italian fashion company, Calzedonia, growing their sales from $600k to $20M. Finally, Kaitlan joined Frances Valentine, a contemporary women's fashion brand, as their E-Commerce Director.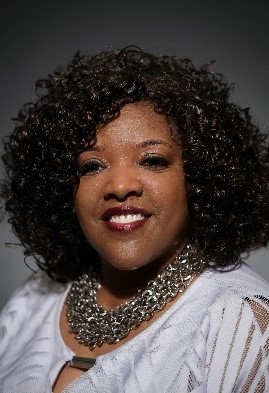 Kimberly Jones has worked for Lawton Public Schools since 1997. She is a high school science department chair and currently teaches ACT Prep Class, Anatomy, Biology, and Forensic Science. She is the founder of several community programs such as Attire to Aspire, Red Tulip Project, and Teamwork Makes the Dream Work. She is the founder of "Scores and Doors" and co-founder of the program "A Step Beyond the Tassel." A recipient of several community and educational awards, she has been featured in Guidepost's: "The Angelic Teacher Who Changed Her Life."
Ms. Jones has conducted Equal Opportunity workshops with her book: Places, Faces and Races for the military, schools, and civic organizations, a book that discussed the different skins tones around the world. She is the author of books: Out of Season; A Preacher's Secret, Places, Faces and Races, and Wealthy Blacks before the Emancipation of 1865. Ms. Jones has earned a Bachelor of Science degree in Biological Science and a Master of Science Degree in Educational Leadership from Cameron University. She is the mother of two wonderful daughters and grandmother of eight grandchildren.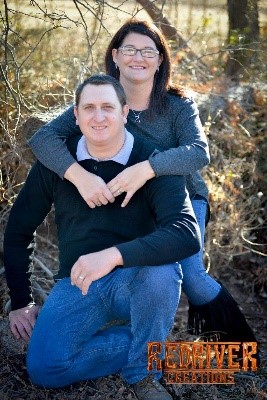 Terri Kinder is a wife, a mother of three, and an employee of the Oklahoma Family Network as the Southwest Regional Family Support Partner & Western Oklahoma Coordinator. Through her job at OFN, Terri helps to navigate resources and provide support, training & advocacy opportunities to families who have a child, or children, with a disability or chronic medical condition, mental or behavioral health diagnosis. Terri can empathize with these families who are walking new and terrifying paths in their lives, because of personal experience with her own children,
Terri is the director of Rockin T Cure for Kids, a small nonprofit organization in southwest Oklahoma. The nonprofit provides financial & emotional support to families who have a child requiring specialized treatment at a children's hospital located two hours or more from their home.
Over the past ten years, Terri has been a volunteer at her local food bank and is also the cheer coach at the Temple Public Schools. In 2016, Terri was honored with the Temple Citizen of the Year Award for her care and compassion for the people and needs of her community. In 2020, Terri was also nominated for TARC Parent advocate of the year.