ACCESSIBLE MICROSOFT WORD DOCUMENTS
Heading Styles
Titles used within Microsoft Word should be formatted as headings.1
1. Select (highlight) the text you want to make a heading.
2. On the Home tab, in the Styles Group, choose the appropriate heading level from the Styles options.

Heading Order
When using the different heading styles, it is important to use them in the correct order. Headings draw a visual persons attention to a specific area. Headings are also a major way of navigation with a screen reader utilized by non-visual individuals.
1. Heading 1 is like the title of a book and is the highest level of headings. Usually there is only one per page. Heading 2s are like chapter titles. Heading 3s are sub-sections of those chapters, and so on.
2. If you wish, heading styles can be modified to match your own formatting.
3. Heading order is also similar to an outline. It is helpful to view the Navigation Pane while applying structure to a word document, so you can see the headings in an outline style format to make sure you haven't skipped a heading level.
4. Don't skip heading levels.
Lists
Page formatting (lists, headings, and links), is read aloud to screen readers, so the content is understood in context. It's important then to properly forman lists as lists.
To format a list:
1. Select (highlight) the text that you want to make into a list.
2. On the Home tab, in the Paragraph group, select the Numbering or Bullets list icon.
Alternative Text in Word 2010
1. Open the Word document
2. Right click on the image/graphic
3. Select "Format Picture"
4. Type the alternative text in the "Description Field" (not in the Title Field).
5. Click the Close button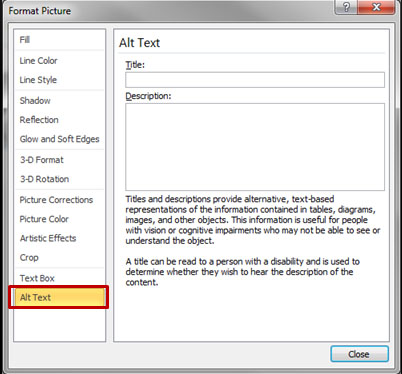 Testing for Accessibility Issues
When creating documents within Microsoft Word, it is extremely important to run an accessibility check before sharing the document or uploading to the website.
1. Open the Microsoft Word file
2. Click the File tab
3. Select "Info" from the menu
4. Click on the "Check for Issues" drop-down list
5. Select "Check Accessibility"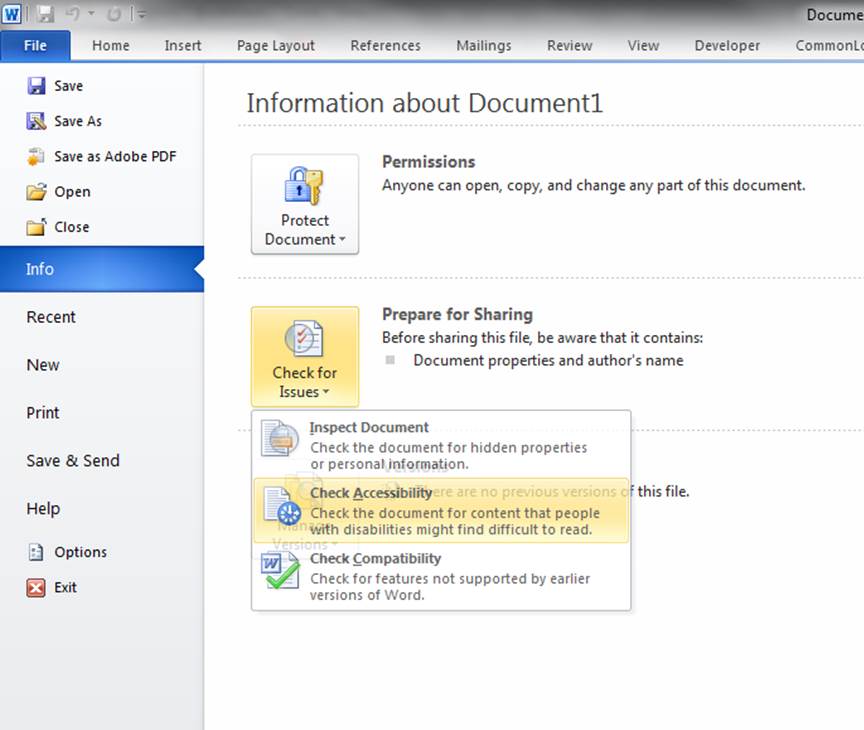 6. The Accessibility Checker panel will open on the right side of the document. The checker lists warning, errors and tips on how to fix problems.

7. Save file
Converting a Word Document to a PDF Document
1. Check the final version of your Word document using the Accessibility Checker.
2. Click the File tab
3. Select "Save As"
4. In the "Save as type" field, select PDF (*.pdf)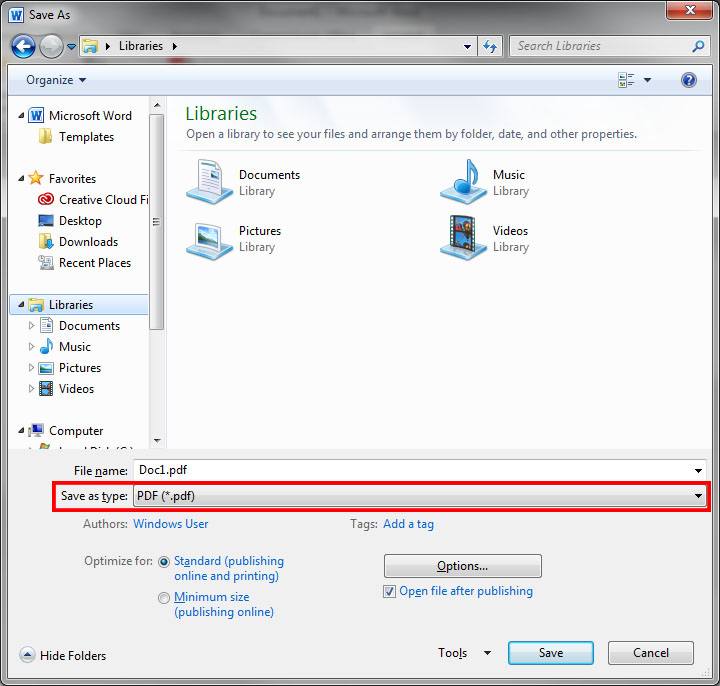 1"Making Word Documents Accessible," Accessible Course Materials. Tulsa Community College, 2014. 27 April 2015. https://www.sites.google.com/site/accessiblecoursematerials/word