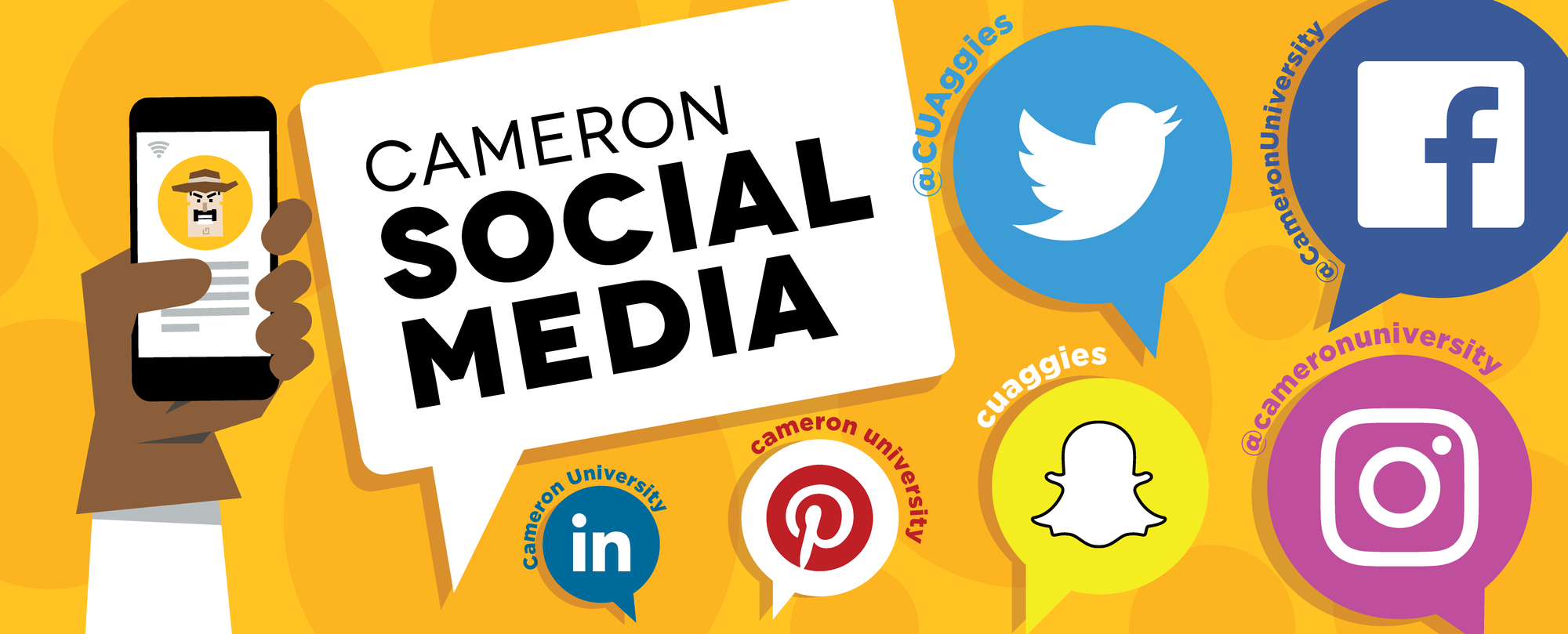 Cameron Social Media
Connect with Cameron University on social media! Whether you are a current student, alum, faculty or staff member, or a part of the Aggie community, we invite you to connect with us on our CU platforms.
At Cameron University social media is more than just social media! It's the way we communicate and engage with our audience - building lasting relationships with prospective students, parents, visitors, fans and alumni.
CU Social Media Goal
Showcase and promote Cameron University through digital communities.
CU Social Media Strategy
Build community through engaging and fun interactions that highlight CU .
Promoting Events Around Campus via CU Social Media
If you have or know of an event you want to share with us or would like promoted, please fill out the event form. We will review and distribute through appropriate channels.
Social Media Outlets
Facebook
https://www.facebook.com/CameronUniversity/

Instagram
https://www.instagram.com/CameronUniversity/

Follow us on Instagram! Our username is CameronUniversity.

LinkedIn
https://www.linkedin.com/school/cameron-university

Cameron University is committed to providing its students a top quality education, but our desire for student success doesn't stop with graduation. We want our alumni to be successful in the workplace.
We're proud of our grads, many of whom use LinkedIn as part of their quest for the right job. Cameron University also has a presence on LinkedIn. We invite alumni to link us to their online resumes.
Snapchat
Want to run the CUAggies Snapchat for a day?
Want to snap with hundreds of your peers? This is your chance! Now you have the chance to apply to run the CUAggies Snapchat account for a day on Takeover Tuesday.
Each Tuesday during the school year, we'll give one student the opportunity to run our Snapchat for 24 hours.
Takeover Tuesday gives the CU community an inside look at what's happening in the lives of students - by students. Those who take over the account tell a visual story about clubs they belong to, events they attend and general student life on campus.
Interested? Fill out the form HERE. If we like what we see, we'll contact you via email.
Questions? Email publicaffairs@cameron.edu
Twitter