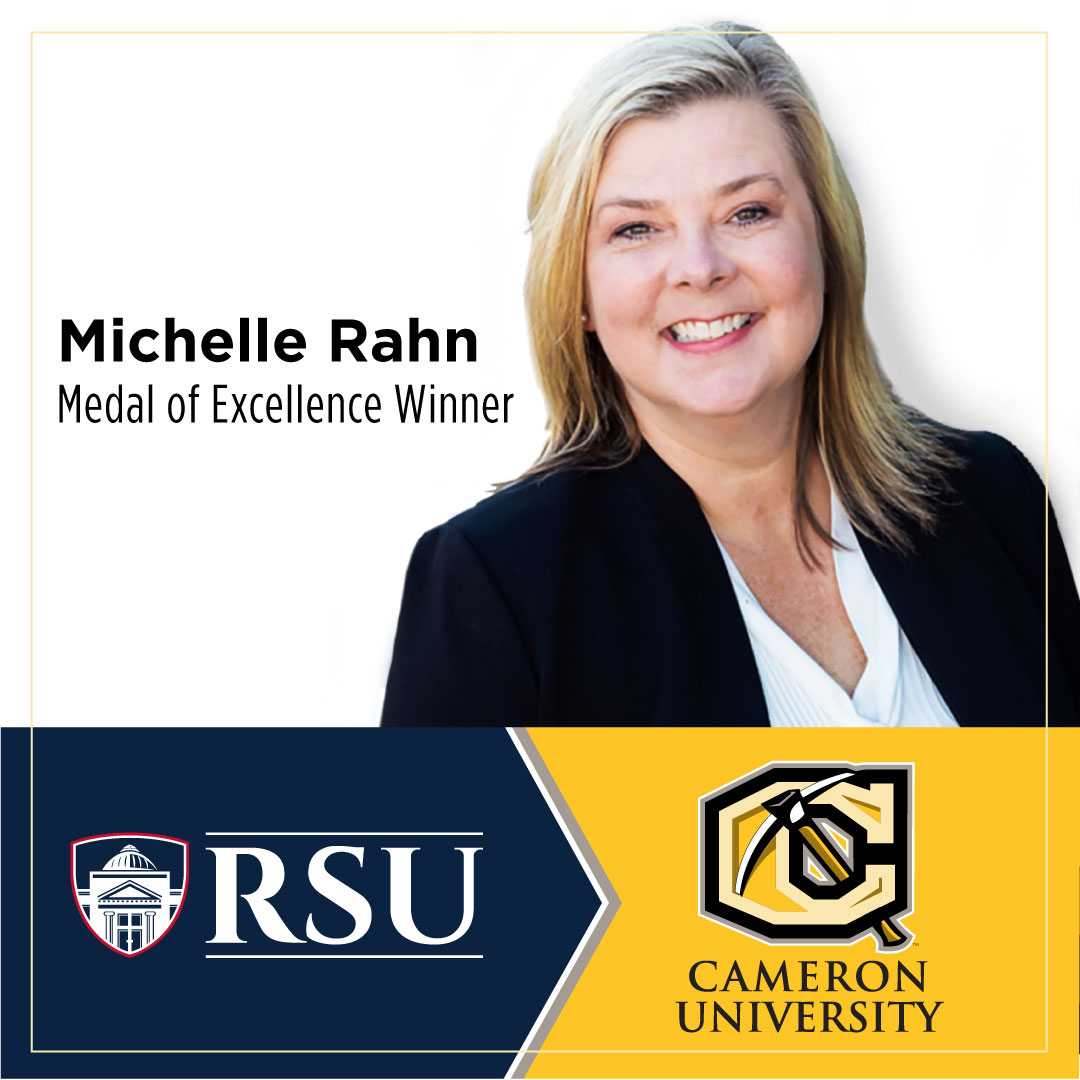 Cameron University alumna Michelle Rahn was named as one of five winners during the Oklahoma Foundation for Excellence's 35th Academic Awards Celebration. Rahn, a sixth-grade science, technology, engineering and math teacher at Will Rogers Junior High School in Claremore, was presented with the 2020-21 Oklahoma Medal for Excellence in Elementary Teaching.
Rahn earned a Bachelor of Science in Elementary Education from CU in 2008 as part of its partnership with Rogers State University (RSU).
The CU/RSU collaboration offers elementary education and social studies education programs on the RSU campus. Students in the Claremore area can complete the entire program without having to leave the region. Classes are held on the RSU-Claremore campus with some face-to-face and some online. Each fall semester, a new cohort of students starts the journey to becoming a teacher.
"At CU/RSU we strive to reach our students to be competent, caring and committed educators who can successfully work with diverse students. Michelle exemplifies these traits in her classroom every day," stated Dr. Eileen Richardson, a CU associate professor, about Rahn's award.
Cameron University holds articulation agreements with Rogers State University and Tulsa Community College (TCC) to make the transfer process seamless for those who earn an associate degree in Elementary Education at either institution. After students receive their degree, they are prepared to transfer to the CU program on the Rogers State campus.
Cameron's education programs at RSU are located in Prep Hall, Room 204. For more information, contact Jayne McLoughlin, the CU education advisement specialist at, 918-343-7971 or jmclough@cameron.edu.
Students seeking admission to the CU education programs at RSU should apply to Cameron as transfer students and financial assistance may be obtained through CU. Details can be found on the CU website at https://www.cameron.edu/education/degree-programs/rogers-state-students.
Rahn previously received the Presidential Award for Excellence in Mathematics and Science Teaching in 2016 and was a finalist for Oklahoma's Teacher of the Year in 2020.
###
PR#21-093