Mission Statement
The Cameron University Department of Business exists to educate and prepare the diverse students it serves to become skilled professionals who will add value to their organizations, their professions, and their communities. The Department strives to expand understanding of the effective and efficient operation of organizations and their dynamic environments. The Department creates a student-centered approach to lifelong learning as well as innovative and experiential business-based learning opportunities.
About
The Cameron University Department of Business is a department of the School of Graduate and Professional Studies and is accredited by ACBSP, a specialized accreditation association for business education that embraces teaching excellence.
The Department of Business offers education and experiences in a variety of business disciplines at the Associate, Bachelor and Master level. Programs are continually updated to ensure students are receiving cutting edge business knowledge to prepare them for successful careers in the business and entrepreneurial arenas.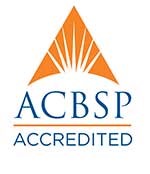 Cameron University has been accredited through the Accreditation Council for Business Schools and Programs since 2000. Accredited programs include:
Bachelor of Accounting
Bachelor of Business Administration
Master of Business Administration
CU Department of Business Student Achievement Information
The Department of Business strives to promote teaching excellence and continuous improvement.
Below are links to student retention and graduation information: