Cameron University will kick off its 11th Academic Festival, "Connections: Information Transfer Between People," with a presentation by mental health advocate Frank Warren. The event, which is free and open to the public, takes place on Tuesday, September 22, at 7:30 p.m. The deadline to order tickets is Friday, September 11. Tickets will be distributed by mail or can be picked up in advance from the Office of Public Affairs, Administration Building, Room 150 beginning on Monday, September 14. For ticket information, call 580-581-2211.
Social distancing protocols will be in place, and masks will be required. The location of the event will be determined based on the number of tickets reserved and will be announced closer to the event date.
"When Frank Warren launched PostSecret in 2005, he ignited a mental health awareness firestorm," says CU President John McArthur. "What started as a community art blog has grown to encompass social media, multi-media events, travelling exhibits, books and more. Mr. Warren demonstrates his mastery of connecting people using the gamut of information-sharing opportunities and focusing attention on mental health awareness and advocacy. It is a pleasure to launch our 11th academic festival with a speaker who has much to share with the audience."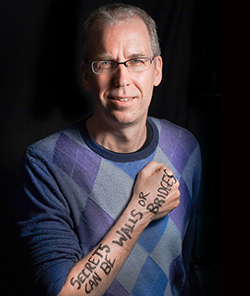 Warren, the innovative creator of the PostSecret Project and a best-selling author, will present "PostSecret and Mental Health: Sharing Secrets, Reducing Stigma, Building Community." As a recipient of the Mental Health Advocacy Lifetime Achievement Award, Warren draws upon his experiences as a crisis counselor, author of six New York Times bestselling books, and founder of PostSecret to destigmatize mental illness through poignant, powerful and surprisingly laugh-out-loud events around the world.
Warren launched PostSecret as a community mail art project in which people anonymously shared never-before-voiced secrets. PostSecret captured the public's collective imagination and evolved into a worldwide movement. The project led to Warren's involvement in suicide awareness and demonstrates that by sharing personal struggles, people can help each other as they release their own burdens.
PostSecret has become the most visited ad-free blog in the world and has been honored with multiple Webbys as "Best Blog on the Internet." It demonstrates the power of sharing hopes, dreams, fears and failures, and has become a catalyst for Warren's passionate commitment to mental health advocacy. The site has raised more than $1 million for suicide prevention and earned Warren a Mental Health Advocacy Lifetime Achievement Award.
Warren's award-winning presentation demonstrates his continuing commitment to mental health advocacy by covering anxiety, stigma, imposter syndrome, substance abuse, social isolation, self-harm, LGBTQ issues and diversity. Through masterful story-telling and audience interaction, Warren's authentic, heartwarming and uplifting program leaves those in attendance with actionable wellness tools.
"Connections: Information Transfer Between People" will continue throughout the 2020-21 academic year. Through a series of presentations by nationally recognized speakers, Cameron will consider three distinct aspects of the festival theme: social interactions, workplace and medicine.
The McCasland Foundation of Duncan is the primary sponsor of "Connections: Information Transfer Between People." Additional funding is provided by the Cameron University Foundation and through Cameron University Lectures and Concerts Series.
For more information, contact the Cameron University Office of Public Affairs at 580-581-2211 or via e-mail at publicaffairs@cameron.edu.
###
PR# 20-102