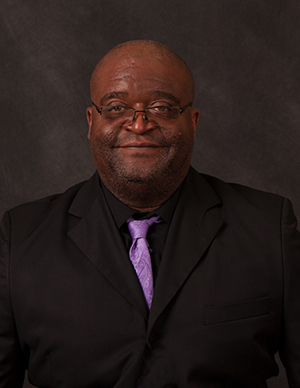 The Vocation Rehabilitation and Employment (VR&E) division of the U.S. Department of Veterans Affairs has honored Alfred Finch, Cameron University VetSuccess on Campus (VSOC) counselor, as its national VSOC Employee of the Year. Finch began his career with the Department of Veterans Affairs in 2017. When he came to Cameron as VSOC in 2018, the university became the first university in Oklahoma to host a VSOC on campus.
The VSOC Employee of the Year award recognizes significant contributions to the mission of VR&E. In addition, the award program focuses public attention on the achievements of VR&E employees in serving America's veterans and service members; increases public knowledge and appreciation of VR&E employees' dedication and personal commitment to providing competent, courteous, and compassionate service to veterans and service members; and encourages VR&E employees to strive for excellence in their daily work.
VSOC is an initiative that supports veterans, service members, and eligible dependents in their transition from military to college life. Finch is able to assist students throughout their career at Cameron University and can be reached by calling the Office of Veterans Affairs at 580-581-2301 or via email at Alfred.Finch@va.gov for an appointment.
Finch served in the U.S. Army from 1989 until retiring from active duty in June 2012. His military education and training include the Primary Leadership Development Course, Basic Noncommissioned Officer Course, Senior Leader Course, First Sergeant's Course and U.S. Army Recruiter School. He holds a Bachelor of Science in Sociology degree from Cameron University and a Master's of Rehabilitation Counseling degree from Langston University. He is currently pursuing a Master's of Science degree in Behavioral Sciences at Cameron.
During his tenure with the U.S. Army, Finch received numerous awards, including Meritorious Service Medal with seven oak leaf clusters, Joint Commendation Medal, Army Commendation Medal with three oak leaf clusters, Army Achievement Medal with five oak leaf clusters, and Army Good Conduct Medal (seventh award). His additional awards include the National Defense Service Medal, Afghanistan Campaign Medal, Iraq Campaign Medal, Global War on Terrorism Service Medal, Global War on Terrorism Expeditionary Medal with one star, four Noncommissioned Officer Professional Development Ribbons, Army Service Ribbon, three Overseas Service Ribbons, Joint Meritorious Unit Award, and Meritorious Unit Award with three oak leaf clusters. He also wears the Combat Action Badge, Gold Recruiter Badge w/three Sapphires and the Recruiter Morales Award.
###
PR# 21-164