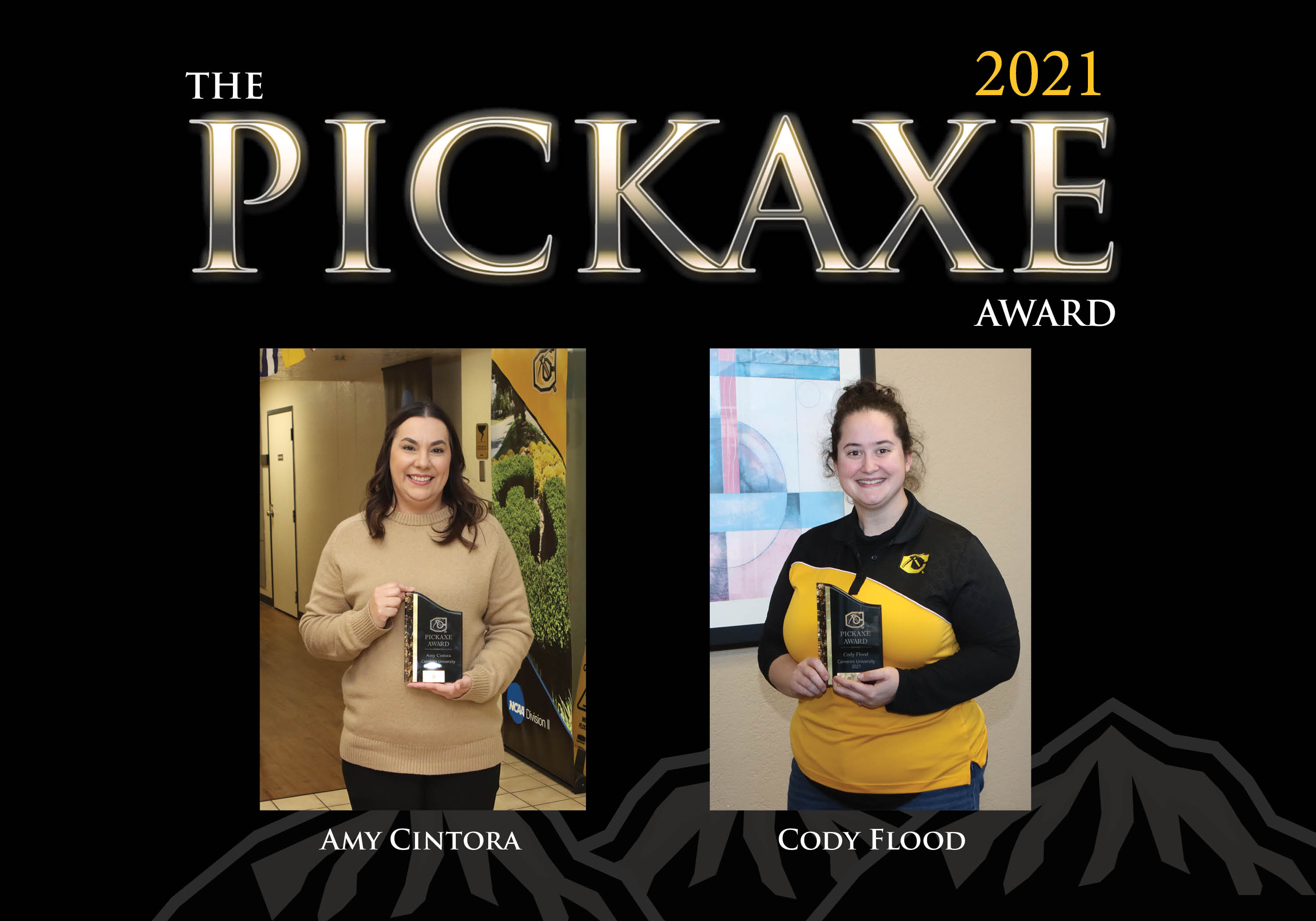 Cameron University staff members Amy Cintora and Cody Flood are the recipients of the 2021 Pickaxe Awards, which recognize full-time Cameron employees whose performance is above and beyond expectations. Cintora is an administrative assistant in the Athletics Department, and Flood is the university's concurrent enrollment coordinator. Each received a $1,000 stipend and a commemorative award.
The Pickaxe Award is presented annually to recognize full-time employees whose performance exceeds the expectations of their job descriptions. The award recipients have made a contribution and/or commitment that has resulted in a significant difference to Cameron students, visitors, or other employees, or whose commitment to their job responsibilities, department, or the university stands out as a clear example to all other employees. Award recipients must have been employed full-time at least one year at Cameron. Nominations were made by Cameron students, faculty and staff. Recipients were selected by the university's Executive Council.
Cintora was referred to as "the cornerstone of the Athletics Department" by one nominator, who added that the workload for which she is solely responsible is handled by multiple staff members at other Lone Star Conference schools. The nominator also wrote, "Amy is the face of the department as she greets the student athletes, boosters, parents, and friends, who come to the fifth floor of South Shepler. She is there with a shoulder to cry on, the first to celebrate a victory, and as a sounding board for anyone that needs to let off steam. She interacts daily with all departments on campus and is the first to volunteer for any special duties that arise."
Flood was cited for her efforts in working with two unique student populations (concurrent students and student athletes). The nominator wrote that she works closely with students to help them understand how to navigate their CU emails, Aggie Access and Blackboard, adding, "She wants to make sure they succeed and gives them as many tools as possible to do so." Additionally, the nominator cited Flood's willingness to find solutions for students and how she encourages them to be their best academically.
###