Traditions
Fight Song - Cameron Fight
Click here to listen to "Cameron Fight", CU's fight song. Below are the words to the song.
We'll fight to the end Cameron Aggies
Fight for our honored name
We'll back you all the way, you know, for spirit is in our fame
So here's to the Cameron Aggies
Here's to the Black and Gold
Yes, Fight! Fight!
Cameron Aggies all the way!
C-A-M-E-R-O-N Aggies!
Alma Mater - Cameron Pride
Click here to listen to Cameron faculty and students singing "Cameron Pride" to the accompaniment of the Cameron University Concert Band. Below are the words to the song.
Give us truth to light the darkness
And visions to pursue
And faith to meet the challenge
Of a world we must renew.
Cameron pride, Cameron pride
Broader than the plains
For your guidance and your promise
Our praise and thanks to you.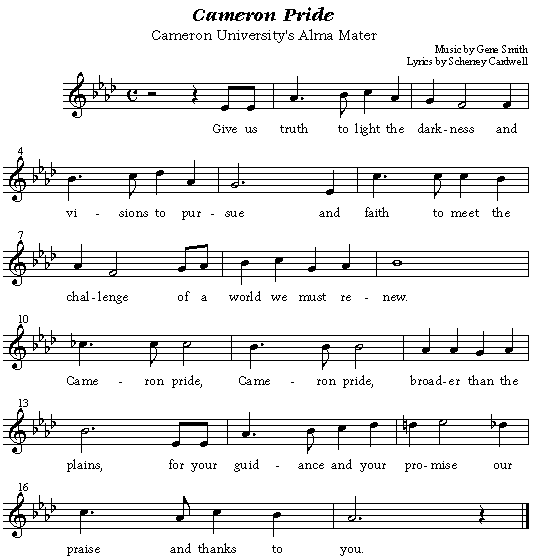 Ole Kim
Cameron's mascot is Ole Kim. He is described as an ex-U.S. Cavalry officer from Fort Sill who sought his fortune in the Wichita Mountains gold rush of the early 1900s, before becoming a cowboy, and then a Cameron student.
Ole Kim first appeared as an illustration on the cover of the 1955 Yearbook. He was given the name "Ole Kim" in 1960 by 1916 Cameron alum B.W. Jolly during a contest sponsored by the campus newspaper. In 1964, a costume was created and worn by journalism student Jeanne Desautel for the homecoming parade, and a tradition was born.
From 1969 until 1992, four different costumes were used and more than 25 students boosted school spirit as Ole Kim. But by the early 1990s, the tradition had faded and Cameron went without a costumed mascot for more than a decade.
The tradition was revived in 2004, when a new costume was commissioned. In early years, Ole Kim was portrayed as a cowboy, but beginning with 2004 his appearance was altered to that of a prospector.
It is said the spirit of Ole Kim walks on Cameron's campus each day. He never misses a class, graduates each year and returns in the fall with each new student. He has helped to build each building, coach every team, cheer with every fan and cram for every final. Quite simply, he is Cameron University.
At Commencement each year, Ole Kim is the final student to walk across the stage and receive his diploma.