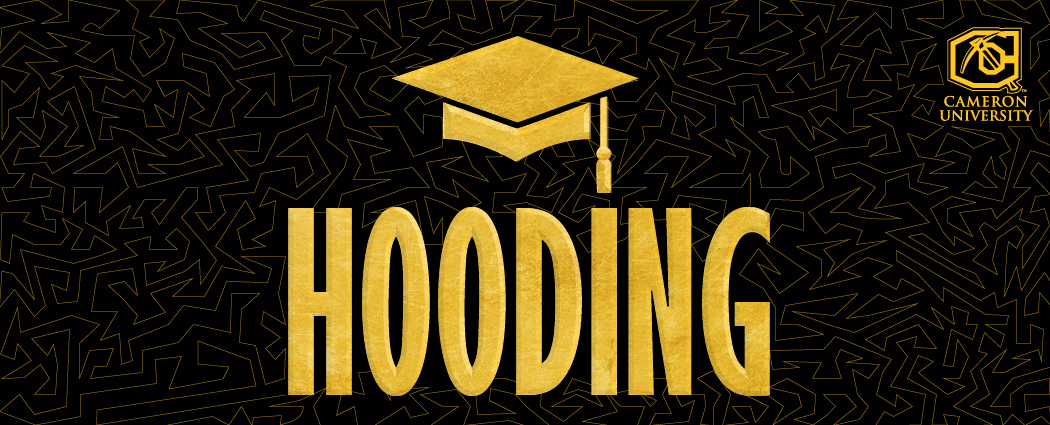 Cameron University will hold a graduate hooding ceremony for students who completed the requirements for any of these post-graduate degrees in December 2022 or who will complete requirements in May 2023, July 2023 or December 2023:
Master of Arts
Master of Arts in Mental Health

Master of Business Administration
Master of Education
Master of Education in Reading
Master of Science in Behavioral Sciences
Master of Science in Educational Leadership
Master of Science in Organizational Leadership
The hooding ceremony will take place at 3 p.m. on Friday, May 5, 2023, in Aggie Gymnasium. Similar to Commencement, the hooding ceremony has very specific regalia requirements. The master's degree candidate is responsible for acquiring the correct robe, mortarboard, tassel, and the hood that signifies their degree, and must bring these items to the hooding ceremony. These are available from the Aggie Bookstore.
Hooding candidates should also select a faculty member from their field of student to place the hood on them during the ceremony. It is the student's responsibility to confirm this with their selected faculty prior to the May 5 ceremony.
A professional firm, Candid Color Photography, will have staff at the hooding ceremony to take photos of graduate students as they are hooded. These photos will be available for purchase directly from the photographer.
A reception will be held for hooding honorees and their families immediately after the ceremony in the CETES Conference Center located a short distance south of Aggie Gymnasium. Master's degree recipients will also be eligible to participate alongside Cameron undergraduates during the university's Commencement that will be held at 7:30 p.m. that day in Cameron Stadium.