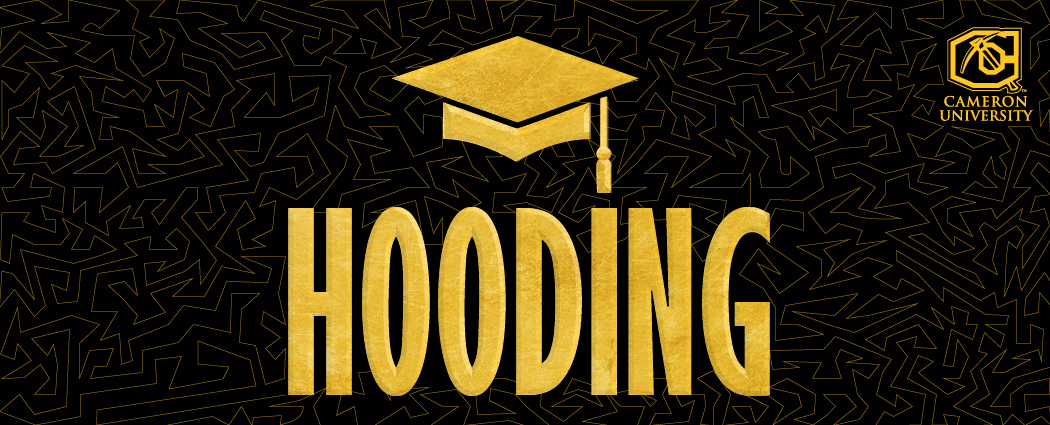 BECAUSE OF SOCIAL DISTANCING GUIDELINES RELATED TO COVID 19, NO SEPARATE HOODING CEREMONY IS PLANNED IN 2021. CANDIDATES FOR GRADUATE DEGREES WILL RECEIVE THEIR DIPLOMAS ALONGSIDE CAMERON'S UNIVERSITY UNDERGRADUATES AT A CEREMONY SCHEDULED FOR 7:30 P.M. ON FRIDAY, MAY 7, 2021, IN CAMERON STADIUM. IN THE EVENT OF INCLEMENT WEATHER, THE CEREMONY WILL BE POSTPONED TO SUNDAY, MAY 9, AT THE SAME LOCATION AND TIME.
Since no separate hooding ceremony is planned, the university has arranged for Candid Color Photography to be on campus on the afternoon of May 7 to take photos of graduate students who wish to have professional photos taken in a hooding pose with faculty. These photos will be taken in the main conference room of the CETES Conference Center. Participants should register for their photo shoot.
In order to shorten waiting times, three sessions have been planned. Graduate faculty from your area have been invited to participate. Please report to the CETES Conference Center according to your field of study:
5:30-6 p.m.: Master of Science and Behavioral Science
6-6:30 p.m.: Master of Education in Education

Master of Education in Reading
Master of Science in Educational Leadership
6:30-7 p.m.: Master of Business Administration
Master of Science in Organizational Leadership
Please remember these things:
The hooding photo is in addition to – not in place of – any photos taken at the ceremony. Master's degree candidates will still have their photo taken as they receive their diploma during the evening ceremony.
Cameron University's COVID-19 protocols will be in place during the master's hooding photo shoot. Except for the taking of the actual photo, grad candidates should remain masked and stay at least six feet away from others in the CETES Conference Center.
Because of the social distancing protocols in place, the number of master's degree candidates who can be in the CETES Conference Center photography area is extremely limited. The university asks that each grad's family and friends remain outside the building.
Graduate faculty have been invited to participate in the photo session. However, it is strongly recommended that master's degree candidates contact their faculty member directly to invite them to present their hood for the photo.
All transactions are between Candid Color Photography and individual candidates; Cameron is not involved in the billing or collecting of monies. Questions can be sent via e-mail to ccpcustomerservice@candid.com, or by phone at 405.951.7300.