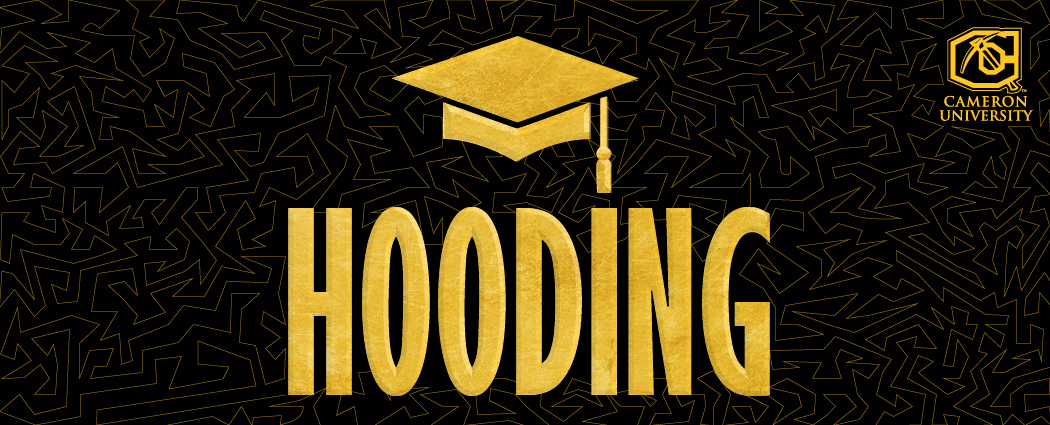 BECAUSE OF SOCIAL DISTANCING GUIDELINES RELATED TO COVID 19, NO SEPARATE HOODING CEREMONY IS PLANNED IN 2022. CANDIDATES FOR GRADUATE DEGREES WILL RECEIVE THEIR DIPLOMAS ALONGSIDE CAMERON'S UNIVERSITY UNDERGRADUATES AT A CEREMONY SCHEDULED FOR 7:30 P.M. ON FRIDAY, MAY 6, 2022, IN CAMERON STADIUM. IN THE EVENT OF INCLEMENT WEATHER, THE CEREMONY WILL BE POSTPONED TO SUNDAY, MAY 8, AT THE SAME LOCATION AND TIME.
Since no separate hooding ceremony is planned, the university has arranged for Candid Color Photography to be on campus on the afternoon of May 6 to take photos of graduate students who wish to have professional photos taken in a hooding pose with faculty. These photos will be taken in the main conference room of the CETES Conference Center. Participants should register for their photo shoot.
If inclement weather forces a postponement in graduation to May 8, then the photo session will also be moved to Sunday, at the times listed below.

In order to shorten waiting times, three sessions have been planned. Graduate faculty from your area have been invited to participate. Please report to the CETES Conference Center according to your field of study: