ABOUT THE GRADUATION CEREMONY
REGALIA
Like many academic traditions, the wearing of distinctive regalia began in England. There, in the second half of the 14th century, the statutes of certain colleges prescribed the wearing of a long gown by faculty and students. Over time, distinctive colors were adopted by each discipline to distinguish them from their colleagues.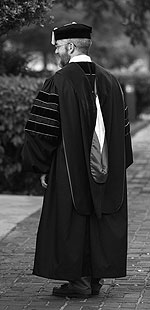 Several American universities established of a suitable code of academic dress for this nation. This code, with modifications made in 1959, remains in force. The costumes, colors, trimmings, and patterns are all traditional, and reflect both the degree and field of learning.
Mortarboards are the most common headgear. The tassel, worn on the left of the cap, may be gold if the holder has a doctor's degree.
The bachelor's gown, designed to be worn closed, has pointed sleeves. The master's gown, which may be worn open or closed, has an oblong, open sleeve that hangs down in traditional manner. The doctor's gown has bell-shaped sleeves. It may be worn open or closed.
Bachelor's and master's gowns are untrimmed. The facing and three bars across the sleeves of the doctor's gowns are generally velvet and are either black or coincide with the color of the edging of the hood. The colors in the hoods and gowns represent the various fields in which the degrees were earned.
The hoods, which differ in length for the three degrees, are lined with the official colors of the university or college conferring the degree, usually with one color forming a chevron pattern over the other. Hoods are edged and bound with velvet of the color appropriate for the degree. Colors and corresponding fields of study are: