From The President
John McArthur
President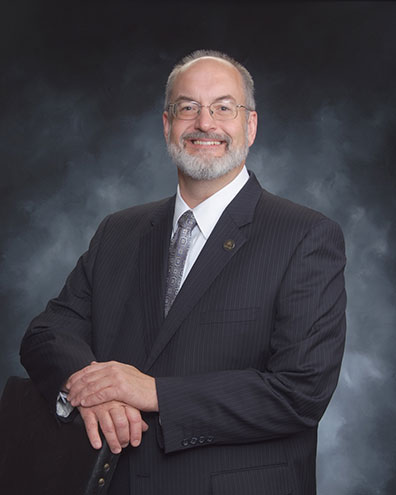 Welcome to Cameron University.

The 2019-2020 academic year brings excitement and promise to Cameron students as well as to the citizens of Southwest Oklahoma and beyond. This year, in keeping with Plan 2023: Ambitious Goals for Growth, Innovation, and Engagement, our five-year strategic plan, we will continue our focus on student learning and student success with initiatives to further improve persistence and degree completion rates while maintaining or increasing already high academic standards. Cameron University provides outstanding student learning opportunities with highly qualified faculty and staff at an exceptional value.
Student Learning Opportunities: Cameron University assures that high school graduates and transfer students have the opportunity for a college education, and improving the prospective student experience is a priority. New and prospective students can find out more at the Welcome Center in the Shepler Center and at OneStop in the McMahon Centennial Complex. Academically, we continue to improve student learning and success. As students enter Cameron University we match student preparation and skills with appropriate course placement to provide a better chance for success. Cameron is continuing two initiatives, "Graduation Starts Today" and "We Want You Back," which give every Cameron student the best possible opportunity to complete the degrees or course packages they have chosen. For students on our Duncan campus, we have increased opportunities for participation with the addition of science labs and classrooms. Cameron is continuing our successful partnership with Great Plains Technology Center in the area of respiratory care and radiologic technology to help meet regional healthcare needs. Cameron University also partners with Western Oklahoma State College and the University of Oklahoma to provide nursing degrees at our Lawton campus, and with Oklahoma City University to do the same at our Duncan campus. We have added exciting new learning facilities to our Lawton campus, including an eSports arena in the Academic Commons, a teaching gallery in the Art Building and a remodeled theatre and film classroom in the Communication Building.
Faculty and Staff: Cameron is committed to providing quality instruction with a focus on student learning in the classroom by interactive television or online. Our faculty are front and center in the classroom and in laboratories. Almost all classes have fewer than 40 students and the average class size is 19 students. Small class sizes lead to increased learning opportunities and active participation. We prioritize the growth and development of our students, faculty and staff in a learning environment based on integrity, respect, and ethical behavior that encourages and provides opportunities for professional improvement.
Exceptional Value: Cameron is dedicated to maintaining quality learning experiences for a modest financial outlay by managing costs and by providing outstanding opportunities for financial assistance. Cameron remains an excellent value. Tuition, mandatory fee, housing, and board rates were unchanged this year. In fact, we have been ranked as one of the 10 most affordable small colleges in the U.S. in a recent national report. Thanks to the support of donors in our community, Cameron has increased scholarships and tuition waivers to over $7.8 Million this year. We encourage you to take advantage of this opportunity by visiting our Scholarship Application Portal. Cameron continues to provide personalized financial updates to student borrowers as well as additional counseling and financial information. We have added a financial resource specialist to the Cameron staff who will identify and assist with student applications for internal and external financial resources.
Throughout Cameron's website, you will find information about academics, athletics, student activities, campus life, cultural events, and more, providing you with a glimpse of what our university has to offer. I invite you to visit our campuses in Lawton and Duncan or contact us by telephone, email or social media to explore the numerous opportunities that Cameron provides.
Don't forget to follow us on social media to keep up with the exciting things happening at Cameron. Additionally, we now offer two mobile applications: the Cameron University app will allow you to connect to University services and resources as well as providing useful information for Cameron visitors and guests, and the Cameron Aggies Gameday app to help you stay up to date with our exciting athletic teams. Thank you for visiting our website, and I hope to see you on campus soon.
Cameron University is dedicated to the educational, cultural, and economic advancement of the communities we serve.