From The President
John McArthur
President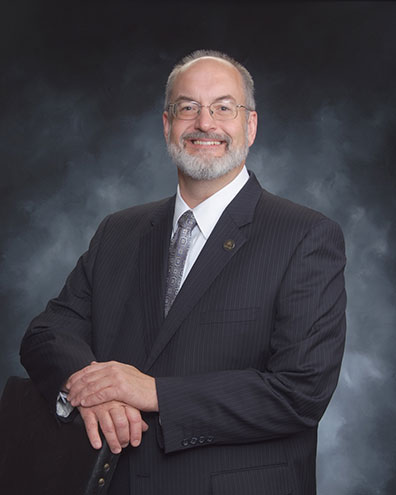 Welcome to Cameron University.
The 2020-2021 academic year is unique and challenging for students and employees. Cameron University is working hard to provide safe and attractive educational options to our students so that they will continue to succeed. We have implemented many modifications to our classrooms and other facilities and adapted operational processes to reduce the risk of transmitting COVID-19 as well as increasing the numbers and types of distance learning educational options.
This year, in keeping with Plan 2023: Ambitious Goals for Growth, Innovation, and Engagement, our five-year strategic plan, we will continue our focus on student learning and student success with initiatives to further improve persistence and degree completion rates while maintaining or increasing already high academic standards.
Student Learning Opportunities: 2020-2021 is an academic festival year. Its theme explores connections and how we share information in this new normal. As usual, we are approaching the topic from many perspectives, including the workplace, social media, and the growing healthcare information marketplace. We will host other higher education institutions from around the state in March 2021 for Oklahoma Research Day. Library renovations will provide new learning and collaboration spaces for students on our Lawton campus. In addition, we are pursuing telecounseling as an additional mental health tool to support our students and continue to expand on-campus and off-campus support for concurrently enrolled students.
Faculty and Staff: We will start the application process for the rank of Senior Instructor, the first new academic rank at CU in decades. This rank recognizes professional accomplishments and performance differently than a more traditional counting of degrees and diplomas held. We will also take a look at the duties and functions within student housing to more effectively and efficiently meet the needs of an ever changing student population. We also plan to move forward with a program to develop future institutional leaders among our entry-level staff members.
Exceptional Value: Cameron is dedicated to maintaining quality learning experiences for a modest financial outlay by managing costs and by providing outstanding opportunities for financial assistance. Cameron University is the most affordable university in Oklahoma – no asterisks, no footnotes, no fine print. We will allocate and award more than $9 million in scholarships, waivers, and other forms of aid to our students this year. The Cameron University Foundation is providing more than $300,000 to support student scholarships and aid this year.
Cameron staff and faculty continue their commitment to meet the needs of an expanding and diverse student population. In August 2019, our student body became a non-majority population with no single racial or ethnic group comprising 50 percent or more of the entire group. We routinely examine how and to whom the millions of dollars in scholarships, waivers, grants, and loans are distributed to students to assure equitable treatment. We have also reviewed our students' choices of academic pursuits and our roles to encourage or to create greater awareness of the opportunities those pursuits allow. As examples, we are revisiting our efforts to encourage and welcome more women into computer-based academic programs and to attract students from many racial and ethnic backgrounds into the teaching professions for the benefit of the next generations of children in our incredibly diverse service area.
Don't forget to follow us on social media to keep up with the exciting things happening at Cameron. Additionally, we now offer two mobile applications: the Cameron University app allows you to connect to university services and resources as well as providing useful information for CU visitors and guests, and the Cameron Aggies Gameday app helps you stay up to date with our athletic events. Thank you for visiting our website, and I hope to see you on campus soon.
Cameron University is dedicated to the educational, cultural, and economic advancement of the communities we serve.