From The President
John McArthur
President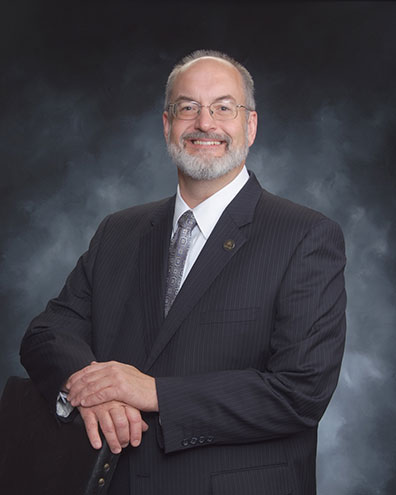 Welcome to Cameron University. The 2023-2024 academic year promises a unique mix of exciting opportunities. Cameron University employees are committed to providing highly effective educational options to our students in a nurturing, safe, and healthy environment.
This year, in keeping with Plan 2023: Ambitious Goals for Growth, Innovation, and Engagement, our five-year strategic plan, we will continue our focus on student learning and student success with initiatives to further improve persistence and degree completion rates while maintaining or increasing already high academic standards.

Learning Experiences: 2023-2024 is an Academic Festival year on the topic of mental health and how it is affected during various stages in our lives. We will approach the topic from many perspectives, including childhood and adolescent mental health, adult mental health as well as the specific mental health concerns of those receiving care and their caregivers. Library renovations provide new learning and collaboration spaces for students on our Lawton campus including a new library space for the Duncan campus. The Student Enrichment Center, the Academic Advising Center and an array of tutoring centers provide students with resources designed to help complete a college degree including work-based learning experiences, financial literacy workshops and counseling, individualized academic assistance from student success coaches, and help with accessing community resources.

Exceptional Value: Cameron is dedicated to maintaining quality learning experiences for a modest financial outlay by managing costs and by providing outstanding opportunities for financial assistance. Cameron University is among the most affordable universities in Oklahoma and the southwestern region. We will reduce student costs even further by awarding more than $6.5 million in scholarships, waivers, and other forms of aid to our students and that number does not include the millions of additional dollars available to our students through state and federal financial assistance programs.

Cameron staff and faculty continue their commitment to meet the needs of an increasingly diverse university student population in Oklahoma. Cameron continues to be a non-majority campus with no single racial or ethnic group comprising fifty percent or more of the entire group. However, the diversity of student experiences at Cameron are far deeper than race and ethnicity with a vast range of life experiences and aspirations. We routinely examine how and to whom the millions of dollars in scholarships, waivers, grants, and loans are distributed to students to assure equitable treatment. We have also reviewed our students' choices of academic pursuits and our roles to encourage or to create greater awareness of the opportunities those pursuits allow. As examples, we are revisiting our efforts to encourage and welcome more women into computer-based academic programs and to attract students from many racial and ethnic backgrounds into the teaching professions for the benefit of the next generations of children in southwest Oklahoma and further afield.
Don't forget to follow us on social media – Facebook, Twitter, Instagram and Snapchat – to keep up with the exciting things happening at Cameron. Additionally, the Cameron University app will allow you to connect to university services and resources. Thank you for visiting our website, and I hope to see you on campus soon.
Cameron University remains dedicated to the educational, cultural, and economic advancement of the communities we serve.