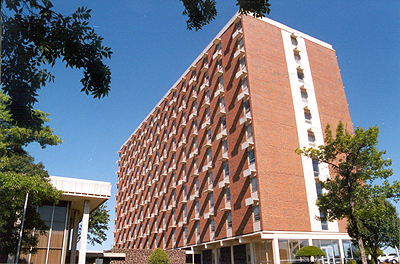 The Shepler complex consists of North Shepler Tower (All Male), South Shepler Tower (All Female), and the Shepler Center. The Shepler Towers offer single and double rooms. Freshmen residents also have the option of staying on an all-freshmen floor. The Shepler Towers have community bathrooms that are cleaned daily by professional custodial staff. Each floor has a lounge for students to socialize, study, and develop community.
Check out all of the things the traditional residence hall living of the Shepler Towers has to offer you!
Single
Full sized bed
Desk
Chair
Chest
Wardrobe
Double
XL Twin Bed
Desk
Chair
Closet
Set of Drawers
Vanity Area
*Internet, cable, and utilities are all included.
Laundry
A self-service laundry is located on the first floor of South Shepler Tower. This facility is included at no additional charge to all Shepler residents..
Shepler Center
The cafeteria, ice/water machine, and a 24-hour computer lab are all located in the Shepler Center located between the two towers. The Shepler Center also has spaces for socializing and studying..
Aggie Rec Center
Another benefit of staying in the Shepler Towers is proximity to the Aggie Rec Center. The Aggie Rec Center features complete weight training and cardiovascular equipment, as well as a swimming pool, racquetball courts, basketball courts and an elevated walking/jogging track.
Security
The Shepler Towers' residential floors are only accessible by student ID. Public Safety officers are located on the bottom floor of South Shepler Tower for quick response in case of emergencies.
Mail
Mail may be sent to Shepler residents at:
Student's Name
502 SW University Dr.
Lawton, OK 73505
The mail is typically delivered Monday-Friday by 3 p.m., except for holidays. When packages arrive, an email will be sent to student. Packages may be picked up at the Office of Student Housing and Residence Life located in the McMahon Learning Center.
Facility Tours
Tours of our facilities are available upon request. Contact the Office of Student Housing and Residence Life at 580.581.2392 to set up an appointment.