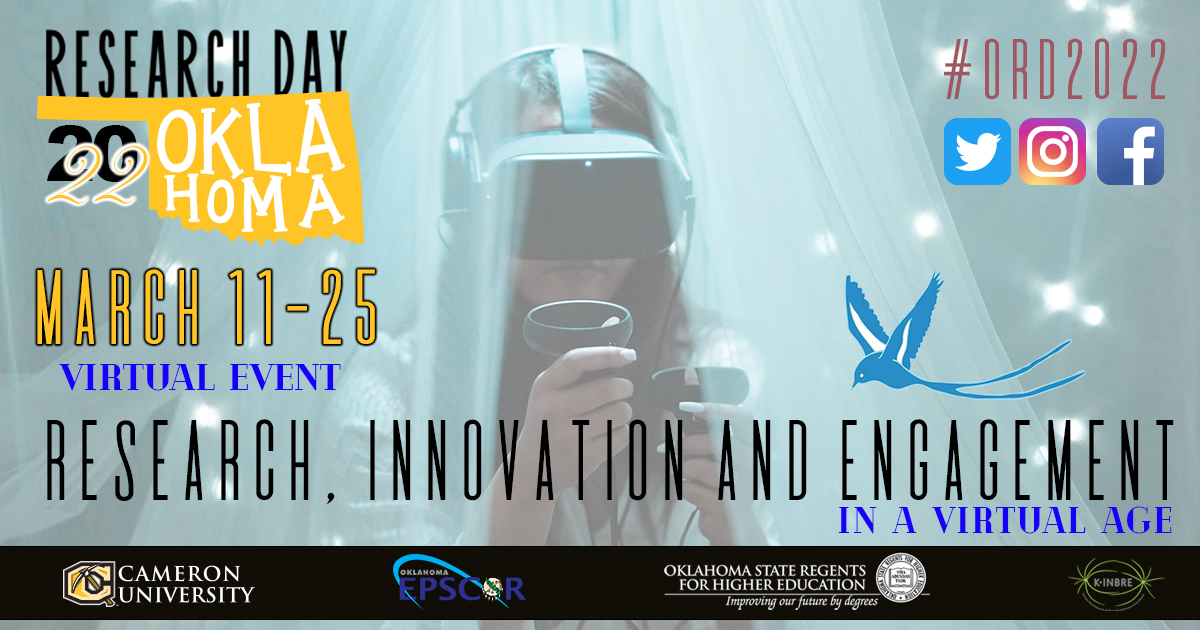 Host
Cameron University
Location/DETAILS
The event will be held virtually, launched March 11, 2022, and be accessible until March 25, 2022.
For more information on how to participate in the virtual event, please see the Navigation Guidelines.
ABSTRACT SUBMISSION
If you are a presenter, submit your abstract on the Presentation Submission Form.
ABSTRACT SUBMISSION DEADLINE
Abstracts will be accepted until March 10, 2022.
FREQUENTLY ASKED QUESTIONS
For poster requirements and other information, please see our Frequently Asked Questions.

THANK YOU FOR YOUR INTEREST IN THE OKLAHOMA RESEARCH DAY EVENT
For more than 20 years, Oklahoma Research Day continues to be THE premier annual event celebrating student and faculty research, creative, and scholarly activities. This conference has grown in numbers and in stature with contributions from all of Oklahoma's institutions of higher education, including many collaborative contributions from national and international academic and research institutions. In 2021, Oklahoma Research Day hosted more than 600 registered students, faculty, and guests and featured a multitude of unique poster presentations.
Cameron University is honored to once again host this prestigious gathering of scholars.
MISSION
Oklahoma Research Day promotes cross-campus and cross-disciplinary research among all institutions of higher learning in the State of Oklahoma. The event seeks to encourage networking among researchers and interchange of ideas among those studying and researching in their respective academic disciplines.
GUEST SPEAKERS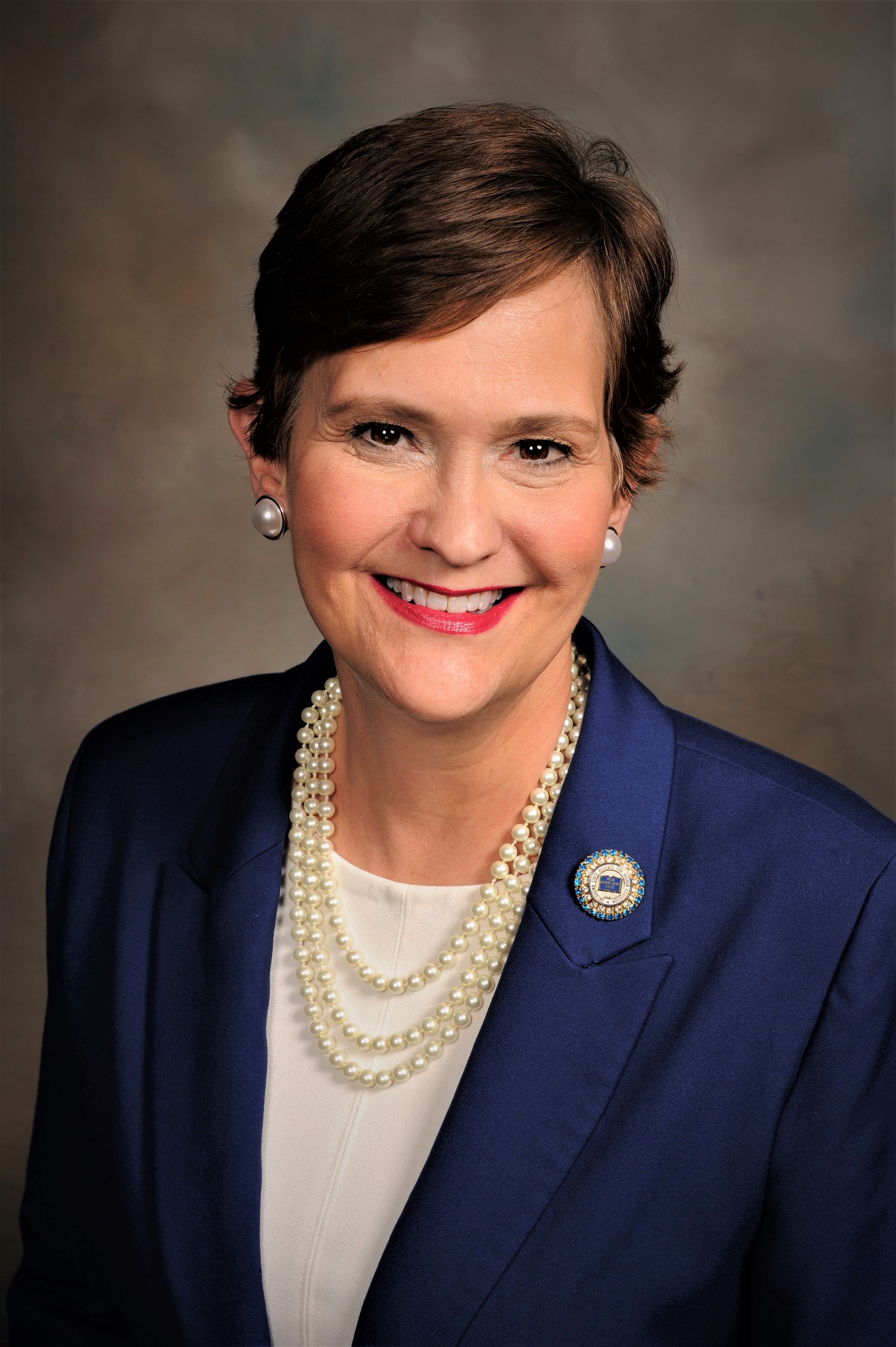 Greeting and Opening Remarks - Chancellor Allison D. Garrett
Oklahoma Research Day 2022 will officially begin with a greeting and opening remarks delivered by Chancellor Allison D. Garrett.

Allison D. Garrett was named chancellor of the Oklahoma State System of Higher Education in September 2021 following a national search. Before assuming the role of chancellor, Garrett served as the 17th president of Emporia State University. Prior to serving as president of ESU, Garrett served as executive vice president of Abilene Christian University, senior vice president for academic affairs at Oklahoma Christian University, and as an associate professor of law at Faulkner University in Montgomery, Alabama. She worked for more than a decade at the Walmart Inc. corporate offices, holding the positions of vice president and general counsel for the corporate division and vice president of benefits compliance and planning. Garrett holds a bachelor's degree in English from Oklahoma Christian University, a juris doctorate from the University of Tulsa College of Law and a Master of Laws in securities regulation from Georgetown University.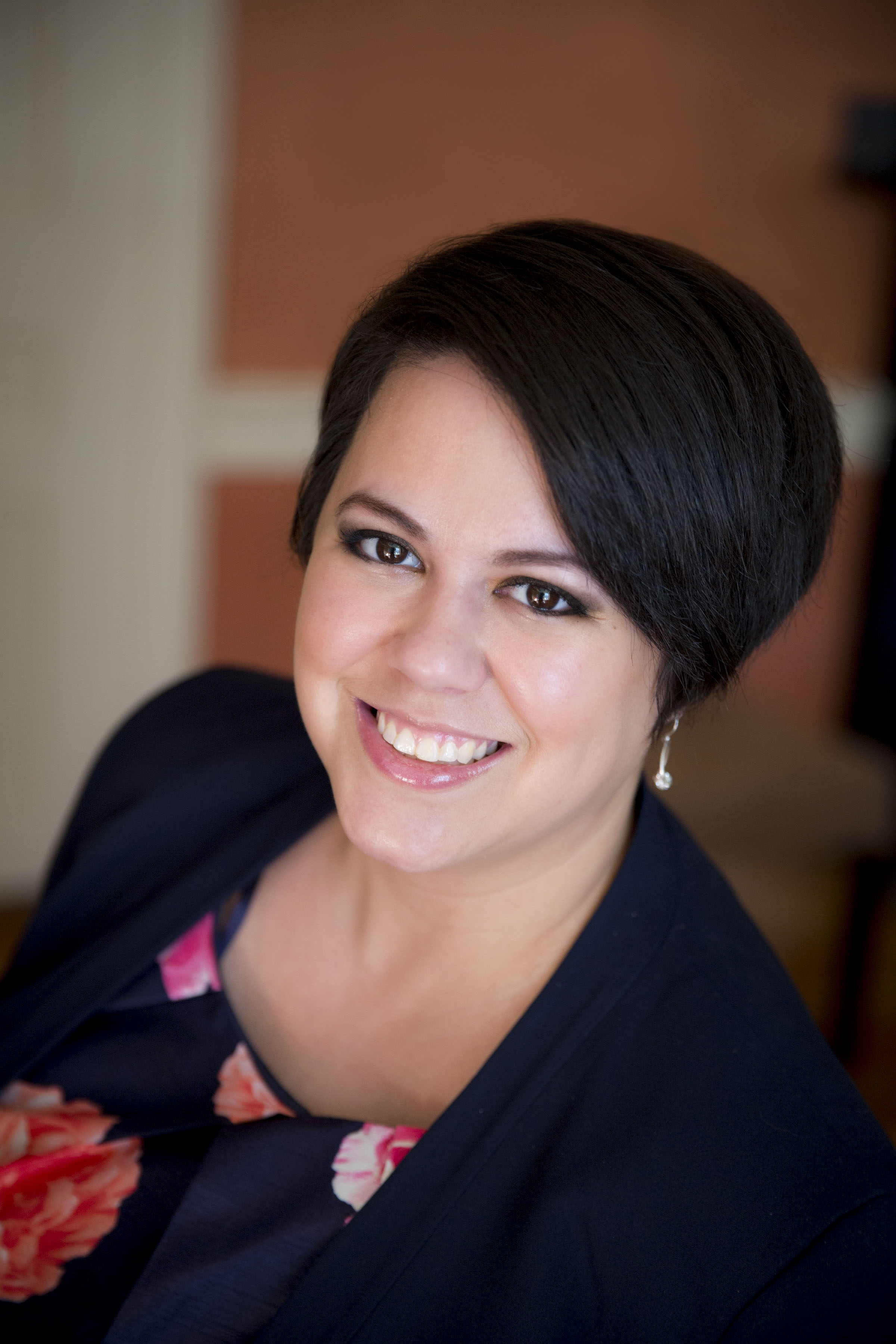 Keynote Address - Dr. Cammi Valdez
The keynote address for Oklahoma Research Day will be delivered by Dr. Cammi Valdez.
Dr. Cammi Valdez is a vascular biologist, faculty member, and champion of making STEM accessible. As a Latina woman scientist, she is a strong advocate for empowering and advancing women, first generation students, and people of color in STEM. Dr. Valdez is currently an Assistant Professor of Chemistry at Northeastern State University and the immediate Past President of the national McNair Association of Professionals (MAP). Beginning in 2015, she has served as a member of the Harvard Graduate School Alumni Council and in 2020 she became a trustee for the Southwestern Oklahoma State University Foundation. Previously, Dr. Valdez served as the Director of the McNair Scholars Program at Wellesley College and as Assistant Director of Research and Fellowships at Harvard College.
The Valdez Laboratory focuses on studying the role of pericytes in Diabetic Retinopathy and developing tools to better characterize these findings. Currently, the Valdez Lab is investigating oxidant stress in Diabetic Retinopathy using mouse models of diabetes in collaboration with the Butcher Lab at Oklahoma State University.
Dr. Valdez received a B.S. Professional in Chemistry and a B.S. in Mathematics from Southwestern Oklahoma State University, where she was an OK-LSAMP Scholar, and earned her PhD in Biological Chemistry and Molecular Pharmacology from Harvard University. During graduate school, her scholarship and work was recognized with the NSF Graduate Research Fellowship, NASPA Massachusetts Richard F. Stevens Outstanding Graduate Student Award, 60th Nobel Laureate Meeting Harvard Ambassador, and serving as a Harvard GSAS Commencement Marshal. Her research in vascular biology has been published in numerous journals including The American Journal of Pathology as well as Current Diabetes Report.