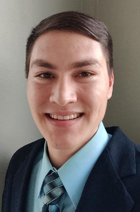 Weslee Fountain
Hometown
Lawton, OK
Graduation Date
CU in 2017, OSU in 2020
Major/Discipline
Civil Engineering
Current Employer/Location
Georgia Dept. of Transportation/Gainesville, GA
CU: How was the transition from Cameron University to another University?
Weslee: It was an easy and straightforward process.
CU: What did your job process look like after school? Was it rather difficult to find one?
Weslee: Yes, I had a somewhat hard time trying to land an interview since I was applying for jobs in January of 2020 and I didn't get one until October of 2020. I had two good opportunities that fell through due to Covid. The first one that fell through was a job with TxDOT then the second one was a job with FDOT both of which that I had an interview with, but they called to notify me that the job offer was canceled due to Covid. I was looking at DOT job opportunities in every state and Georgia's website to apply for an application was easy, so I filled out my application and got a call within a few days to set up an interview. Then I did the interview and two weeks later I was notified that I got the job!
CU: Would you do anything differently in your career path?
Weslee: I wish I would have focused on taking my FE exam in my last semester of college, because it's been a while since I graduated and I'm not looking forward to having to study everything I've forgotten. And I just keep putting off studying for the FE exam I had hoped to take this year, but knowing how much I procrastinate in all likelihood I probably won't take it until sometime next year.
CU: What advice would you give to current students?
Weslee: Take and pass the FE exam before you graduate, because if you're a procrastinator like me then it's not going to be fun having to go back and relearn everything that you forgot after graduating.