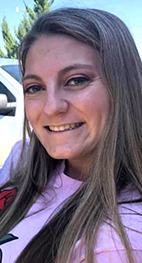 Victoria Due
Hometown
Elgin, OK
Major/Discipline
Civil Engineering
Graduation Date
CU 2020
Current Employer/Location
Altus Air force Base/Altus, OK
CU: Do you think school prepared you for your first job, or was it more "on the job" training?
Victoria: It was more on the job training for me. I work with a lot of CAD and very high tech field equipment that I had never been exposed to before Altus.
CU: What did you splurge on with your first big paycheck?
Victoria: A trip to Denmark
CU: Where do you see yourself in 10 years?
Victoria: Enjoying my job at Altus and working towards a supervisory position.
CU: What inspired you to do Engineering?
Victoria: Dr. Youngblood's engineering Academy (I attended the very first one ever)
CU: Do you think it is difficult for women to enter the Engineering field? (Sexism, prejudice, etc..)
Victoria: I don't think it's difficult to find a job, I think it's difficult to fit in with your coworkers sometimes.
CU: What advice would you give to current students?
Victoria: Don't give up no matter how hard it gets, and don't be discouraged by a bad grade, it happens to us all. In the end it will all have been worth it!