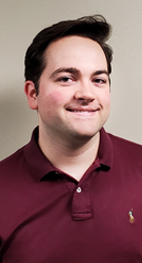 Tyler Bishop
Hometown
Lawton, OK
Pre-Engineering Education:
Great Plains Technology Center
Major/Discipline:
Industrial Engineering
Graduation Date:
CU 2018, OU 2021
Current Employer/Location:
Henniges Auto/Frederick, OK
CU: Is your job what you expected?
Tyler: For the most part yes, but there are a lot of industry-specific practices and terminology that they don't teach you in school!
CU: What was your most challenging class in undergrad?
Tyler: Electrical Circuits 2. It led me to change disciplines.
CU: Do you think school prepared you for your first job, or was it more "on the job" training?
Tyler: There has been lots of on-the-job training, but I don't think I would be able to understand that training very well without the content I learned in college.
CU: Would you do anything differently in your career path?
Tyler: Avoid more student loans
CU: What inspired you to do Engineering?
Tyler: I joined the pre-engineering program at Great Plains Technology Center, and it inspired me to continue on with the profession.
CU: What advice would you give to current students?
Tyler: Have fun, but not too much fun. Have just the right amount of fun.