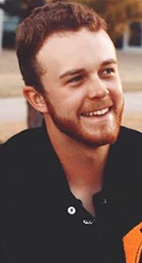 Kameron Good
Hometown
Moore, OK
Graduation Date
CU 2020
Major/Discipline
Mechanical Engineering and
Business Administration/Marketing
Current Employer/Location
City of Lawton/Location
CU: What was your most challenging class in undergrad?
Kameron: Calc 3
CU: Do you think school prepared you for your first job, or was it more "on the job" training?
Kameron: Both! I wish there was more autocad training in school and I wish municipality code was talked about.
CU: Where do you see yourself in 10 years?
Kameron: Owning a few businesses and working for the city as an engineer
CU: What did you splurge on with your first big paycheck?
Kameron: A new truck