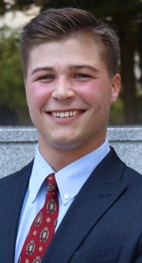 Jonathan Tuttle
Hometown
Comanche, OK

Pre Engineering Education
Red River Technology Center

Graduation Date
CU 2017, OU 2019
Major/Discipline
Mechanical Engineering
Current Employer
Cameron, a Schlumberger Company/OKC, OK
CU: What did your job process look like after school? Was is rather difficult to find one?
Jonathan: I actually received 4-5 offers before I graduated. I believe it was because I had multiple internships under my belt.
CU: Do you think school prepared you for your first job, or was it more "on the job" training?
Jonathan: Mostly on the job training. However, the design classes were definitely a big help.
CU: Would you do anything differently in your career path?
Jonathan: I'm working my way to becoming an engineering manager.
CU: What did you splurge on with your first big paycheck?
Jonathan: I didn't splurge on the first paycheck, we saved up and went to Hawaii, and bought a house in OKC 10 months later.