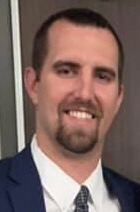 Hunter Hixon
Hometown
Lawton, OK
Pre Engineering Education
Great Plains Technology Center
Major/Discipline
Mechanical Engineering
Graduation Date
CU 2016, OSU 2018
Current Employer/Location
HSI Sensing/Chickasha, OK
CU: How was the transition from Cameron University to another University?
Hunter: Rough. I was the guinea pig for the Cameron program and had classes where I was the only student. Moving to a university that has classes consisting of several hundred students made it more difficult to seek help on homework, projects, etc. It also was more difficult to get to know other people in my classes, so I was not a part of any study groups.
CU: What was your most challenging class in undergrad?
Hunter: My most challenging class was Computer Methods at Oklahoma State University. Writing complex code to solve problems is not my strong suit and the professor was not much help either.
CU: How much do you like your job pertaining to work-life balance?
Hunter: My job is amazing with work-life balance. The company sees each employee as a person, not a number. The company is an ESOP employer, so each employee owns a portion of the company and gets a share of the profits. HSI Sensing is more of a family environment than a work environment. They also give out a Christmas basket each year to each employee so with everything you need for a Christmas dinner.
CU: What inspired you to do Engineering?
Hunter: I have always excelled in and enjoyed math. The career options utilizing mathematics are slim, but when I completed the Pre-Engineering program at Great Plains Technology Center, I had an interest in engineering and what I could do in my career as an engineer.
CU: What advice would you give to current students?
Hunter: When it comes to school: study hard, don't give up, make friends and join a study group, and be sure to enjoy college. Gain experience through internships. Go outside your comfort zone.