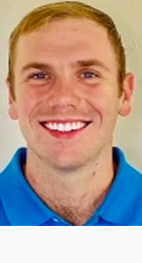 Grant Patrick
Hometown
Lawton, OK
Pre Engineering Education
Great Plains Technology Center
Graduation Date
CU 2017, OU 2019
Major/Discipline
Electrical Engineering
Current Employer/Location
Lawton Communications/Lawton, OK
CU: What was your most challenging class in undergrad?
Grant: Signals and Systems/EMF. Those are the classes that make you wanna drop!
CU: How much do you like your job pertaining to work-life balance?
Grant: I love every bit of it. Wouldn't change it for anything.
CU: Where do you see yourself in 10 years?
Grant: Living life to the fullest. I'm not sure what I'll be doing but I know I'll be happy!
CU: What inspired you to do Engineering?
Grant: I was good at math and I didn't think another degree was worth the money.
CU: What advice would you give to current students?
Grant: Stick to your dreams, you will be surprised what you could actually achieve.