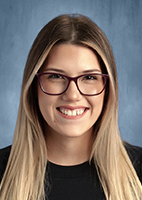 Angel Kroboth
Hometown
Lawton, OK
Graduation Date
CU 2017, OU 2020
Major/Discipline
Environmental Engineering
Current Employer/Location
MacArthur High School/Lawton, OK
CU: What was your most challenging class in undergrad?
Angel: My most challenging class was aquatic chemistry.
CU: Where do you see yourself in 10 years?
Angel: Hopefully I am teaching at the university level.
CU: What did you splurge on with your first big paycheck?
Angel: New clothes for work!