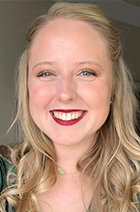 Megan Magness
Major/Area of Study
Chemistry/Analytical
Graduation Date
CU 2018
Current Employer
Graduate Assistant (University of Arkansas)
CU: How was the transition from Cameron University to another University?
Megan: It was very smooth, I felt more than prepared.
CU: Is your job what you expected?
Megan: Yes and No. Graduate School is very challenging and I have discovered it is more about determination and ambition then it is about how smart you are.
CU: What did your job process look like after school? Was is rather difficult to find one?
Megan: I worked in between undergraduate and starting graduate school at the Department of Environmental Quality, as a chemist in the organic division. I got that position by sending my resume and CV to different companies asking if I could work part time until I started graduate school in order to see what a chemist position in industry might look like and to gain some experience. Some companies did not call back others did to ask questions about my resume, it just takes time to find the right position for you.
CU: What inspired you to do Chemistry?
Megan: I really enjoyed the challenge chemistry provided but mostly it was the relationships I made at Cameron with Dr. Nalley, Dr. Vitense, Dr. Buckley, and Dr. Bryan that truly inspired me to stay within this field.