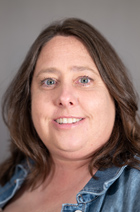 LYNA NEAL
Major/Area of Study
Biochemistry
Graduation Date
CU 2003
Current Employer
Kemira Chemical
CU: What inspired you to pursue Chemistry?
I originally started a Chemistry degree out of high school to pursue Pharmacy. After my first year, I changed majors and went on to complete a Bachelors of Business Administration with concentration in Marketing. One year after completing my first degree, I felt I wanted to go back and complete my chemistry degree with hopes to go on to Optometry school. After finishing my Chemistry degree, life happened, and professional school was not in the plans.
CU: How was the transition towards your next assignment since graduation from CU?
Transition towards my next assignment after graduation took a couple of years after graduating.
CU: What was your next assignment after graduation? (internship, graduate/medical school, job, etc.)
My first job in the Chemistry field was a Lab Tech for the City of Lawton Wastewater Treatment Plant.
CU: Did your learning experience from CU help you in any way in your career profession?
I used the knowledge from Dr Nalley's Chemistry of Water and Wastewater daily in my position of Lab Tech. Now in my position as Technical Sales Rep, I get to use both my Business and Chemistry degrees by applying the technical knowledge of chemistry with the accounting and sales experience of my marketing degree.
CU: What was your favorite class/lab?
Chemistry of Water and Wastewater
CU: Which class/lab was the most challenging during your time at CU?
Most Challenging was BioChem I and II
CU: What is the one thing that you would go back in time and change if you could?
I don't think I would change anything because every experience led me to who am I today. Every experience has taught me something, whether it is how to handle a situation or apply critical thinking to figure something out.
CU: What would you give to present and future students as advice?
Don't give up on yourself or your dreams. You may take the long way getting there, but it will be worth it in the end.