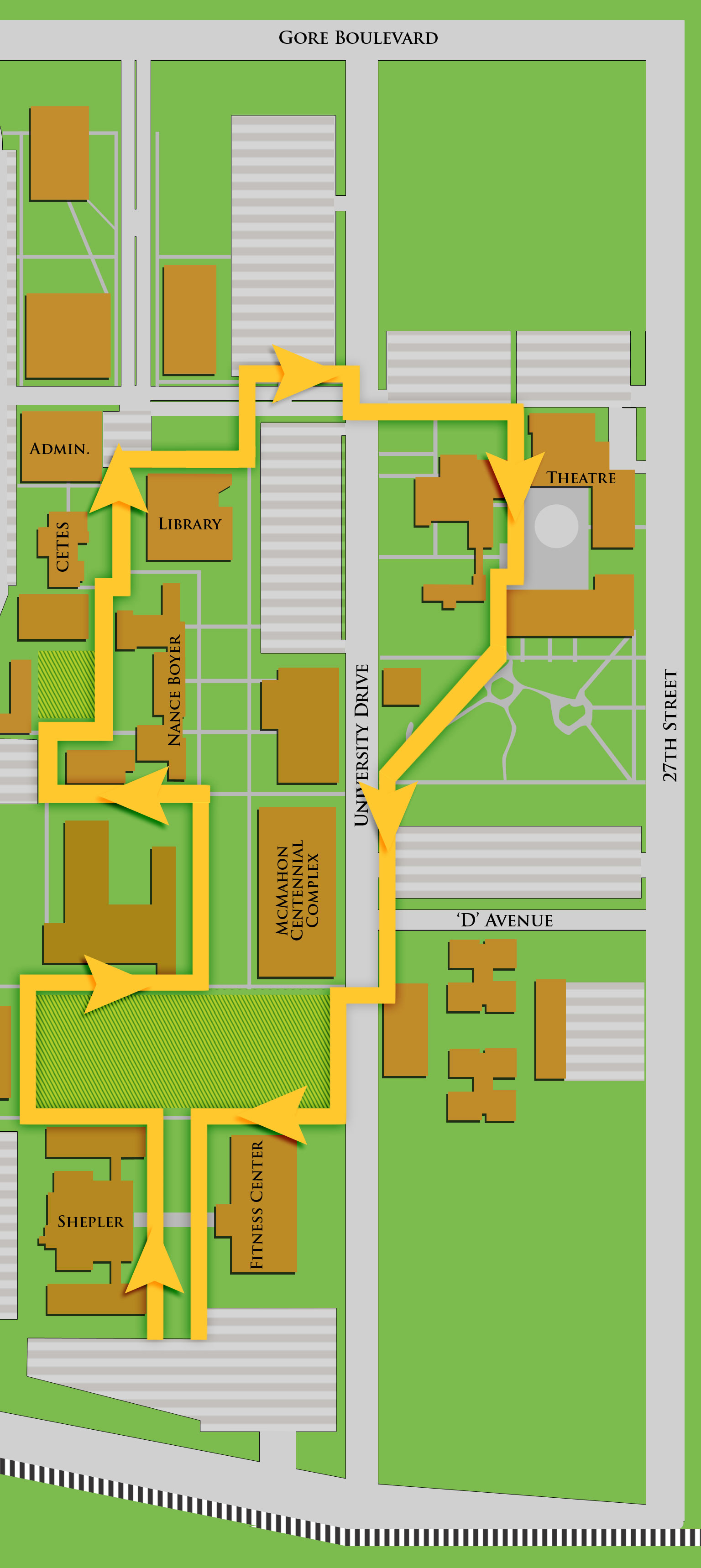 Printable Aggie Mile Map
Download a printable version of the Aggie Mile map

The Aggie Mile, a walking path of approximately one mile, offers students, faculty, staff and visitors a low-impact fitness opportunity, whether they're walking across campus to get to class or implementing a walking regimen as part of a healthy lifestyle.
Developed as part of Cameron University's "Healthier CU in Century II" initiative, the Aggie Mile meanders through the beautiful Cameron campus, offering scenic views of the Bentley Gardens, the Charles S. Graybill Courtyard and Cameron Park. Each step along the trail is a step toward fitness and good health.
This one-mile path is designated by copper-topped, gold markers that guide walkers along the trail.
Benefits of Walking
Walking can provide the same benefits as a running program. General health benefits are acquired from any walking. For cardio benefits, the key is walking fast enough to get your heart rate up.
Assists in weight management
Controls blood pressure
Decreases risk of heart attack
Boosts HDL ("good") cholesterol
Lowers the risk of stroke
Combats stress
Relieves arthritis and back pain
Strengthens muscles, bones and joints
Elevates overall mood and sense of well-being
Improves sleep
Reduces risk of colon cancer
Alleviates signs of depression
Lengthens lifespan
Increases cognitive function
Source: AARP.com

Walking Tips
Check with your doctor to determine the level of exercise that's best for you.
Warm up! Warming up is exercising at a lower intensity to get the blood circulating and let your body know that you are preparing for exercise.
When beginning a walking regimen, start at your normal walking pace. Your breathing should be elevated, but you should not be gasping. If you cannot talk, you are walking too fast; if you can carry a tune, you are walking too slow.
At the end of your walk, cool down by walking at a slower pace. The harder you have worked out, the longer you should cool down.
Take the time to stretch after every workout. In the beginning, stretches should take at least five minutes. As you increase distance and pace, stretch for a longer timeframe.
Avoid using hand weights while walking. Carrying hand weights will not provide the resistance needed to tone muscles, but can increase blood pressure, put strain on ligaments and tendons and may contribute to joint problems.
Selecting the right walking shoe:
Proper fit
Low heel
Flexible sole
Lightweight & breathable fabric