How to clean your USB drive using Forefront
One of the problems people will often experience with viruses is that they can infect external drives – such as thumb drives / jump drives, or external hard drives. This is why some machines, even though they may have been cleaned already, may pop up with the virus again.

The key to help us in eliminating viruses on campus also depends on you keeping your external media clean.

To make sure your USB drive is clean, plug it into your computer, and allow it to show up in My Computer. Once it shows up, double-click on the Forefront icon, located in the system tray next to the clock. The Forefront icon will look like one of these symbols:

Click on the drop-down menu arrow next to Scan and select Custom Scan...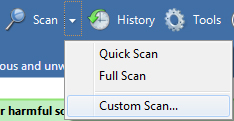 Make sure "Scan selected drives and folders" is chosen, and click on Select
Click the check mark box next the USB drive you wish to scan and click on OK. Then click on Scan Now.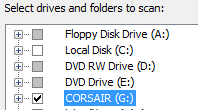 Forefront will then scan your USB drive.

If Forefront does not find anything, it will state that your computer is safe:


If nothing was found, go ahead and close the window.

On the other hand, if Forefront HAS found something, it will alert you to it and state whether it's been cleaned or deleted, or will prompt you with instructions to follow. If it does find a virus, it's important to follow up by running an anti-virus scan on ALL computers you have used this USB drive on.