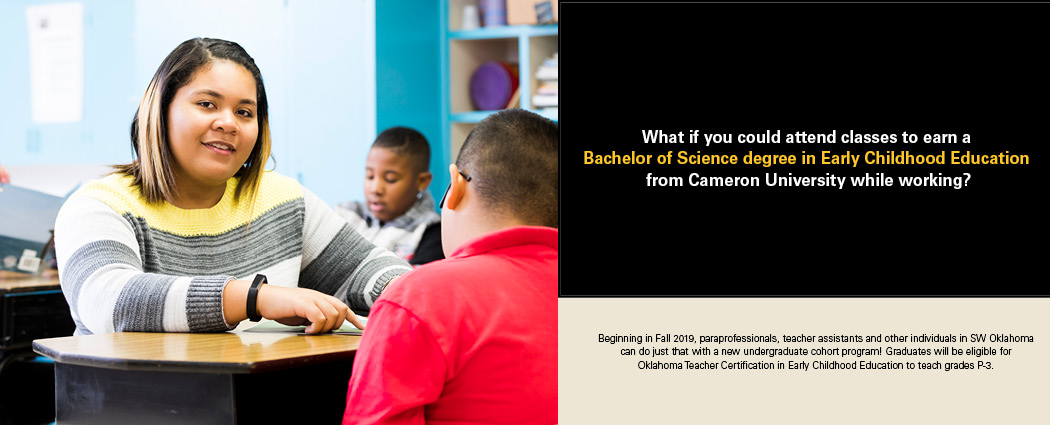 ECE COHORTS
Love working in education, but thought you would never have the time or opportunity to earn your teaching degree?
What if you could attend classes to earn a Bachelor of Science degree in Early Childhood Education from Cameron University while working?
FAQ's
THE PROGRAM
The Cameron University Department of Education will offer an Early Childhood Education (ECE) Cohort leading to a Bachelor of Science degree in Early Childhood Education and eligibility to complete licensure exams for Oklahoma Teacher Certification in ECE to teach grades P-3.
WHO IS ELIGIBLE TO PARTICIPATE?
Qualified paraprofessionals, teacher assistants, and other individuals in SW Oklahoma are eligible to apply. Individuals not currently working in a school setting will be required to complete field experiences in settings arranged by the Field Coordinator.
WHAT ARE THE ADMISSION REQUIREMENTS?
Participants must have an Associate's degree or 36+ hours of transferable college credits. (If you do not have an AA/AS degree or 36 credits, you can earn credits at Cameron University or Western Oklahoma State College (WOSC) and join the next cohort). Participants should have a minimum of a 2.5 GPA at time of application.
WHAT IF I DON'T HAVE AN ASSOCIATE'S DEGREE OR 36 TRANSFERABLE COLLEGE CREDITS?
Interested individuals who have not yet earned an Associate's degree or 36 transferable college credits may complete additional coursework and join the next cohort once this requirement has been satisfied. The program coordinator will work with prospective students to provide guidance about which courses are needed to meet the program's general education requirements.
HOW WOULD I BE ABLE TO EARN THE REQUISITE 36 CREDITS IN ORDER TO BE ELIGIBLE TO PARTICIPATE IN THE ECE COHORT?
Prospective cohort participants who have fewer than 36 college credits can complete the necessary coursework at Cameron University. Cameron University also has an articulation agreement with Western Oklahoma State College (WOSC) in Altus for an AA in Liberal Arts for students pursuing an Education degree at Cameron University. Prospective students should meet with a Cameron University advisor concerning enrolling in needed coursework.
HOW LONG WILL IT TAKE TO COMPLETE THE PROGRAM?
This program is an ambitious undertaking that will require commitment and focus. The professional education coursework is scheduled over two calendar years (6 semesters), beginning in the fall of 2019 and ending in May 2021. Candidates who need to take additional general education course work may either need to begin taking courses in the Summer of 2019, take the additional courses concurrently with the cohort courses or join a future cohort. Answers to these questions are best addressed after an analysis of transcripts with a Cameron University advisor.
WHAT IS THE TUITION FOR THE COHORT?
Tuition rates depend on the format of the class (hybrid, in person or online). Tuition rates (including fees) for AY19-20 will range from $215-$250/credit hour.
IS FINANCIAL AID AVAILABLE?
Students may apply for financial aid in the same manner as other Cameron University undergraduates. Additional scholarships are available for cohort participants AFTER they are admitted into the Educator Preparation program at Cameron University.
WHO WILL BE MY ADVISOR?
Dana Hilbert will be the designated academic advisor for all of the cohort participants. She will have the initial responsibility for advising and supporting candidates in the cohort, as well as individuals who are considering participating in the program.
HOW WILL I GET TEXTBOOKS?
The bookstore at Cameron University will have course books and materials. Book requirements and materials will also be available on the class schedule and syllabi, so that individuals can purchase from a bookstore/vendor of their choice.
ARE THERE ANY OTHER REQUIREMENTS?
Candidates must be admitted to the Educator Preparation Program in the Spring of 2020. Admission is based on GPA, interview and assessment scores. Cohort candidates are required to complete field experiences at an approved school. Candidates not currently employed at a school will need to consider how to complete such requirements. Please speak to the advisor for specifics.
NEXT STEPS?
Prospective students wanting to join the cohort must first apply and be admitted to Cameron University. Once admitted, prospective students will complete an application process to join the cohort (application document and transcript analysis). If the candidate meets the requirements, they will be enrolled in the cohort courses beginning in August 2019.