ABOUT THE COMMENCEMENT SPEAKERS
SHAUN CALIX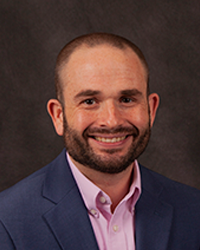 Dr. Shaun Calix is an associate professor and chair of the Department of Psychology at Cameron University. Dr. Calix received a Bachelor of Science degree in Human Development and Family Studies from the University of Alabama, a Master of Science degree in Marriage and Family Therapy from the University of Southern Mississippi, and his Doctor of Philosophy degree in Human Development and Family Studies from the University of Missouri.
During the 2018-2020 academic years, Dr. Calix chaired two university committees, and served as the chair of Cameron's Faculty Senate during the 2019-2020 academic year. His publication history includes research articles and book chapters on development in adolescence and emerging adulthood, intergenerational relationships, divorce co-parenting education, and treatment of adolescent substance abuse.
Within the Lawton-Fort Sill community, Dr. Calix is a frequent cast member in musical productions staged by the Lawton Community Theatre, and is a singer in Lawton Pro Musica and the CU-Lawton Civic Chorale. He also has performed with the CU Concert Choir, Opera Workshop, CU Theatre, CU Concert Band, and CU Jazz Ensemble.
DARIUS MORRIS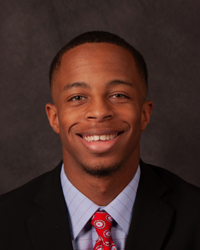 Darius Morris graduated from Cameron University this past spring with an Associate in Science degree in Business. He completed his Bachelor of Science degree in Accounting at the conclusion of the summer semester.
After he arrived on campus in the fall of 2015, Mr. Morris began taking active leadership roles in the classroom and in student organizations. Beyond his duties as president of the CU Student Government Association in 2019-2020, he participated in a number of campus organizations at Cameron, including the Accounting Club, Black Student Association, Diversity Diplomats, and Gamers Anonymous. He is noted for his vibrant, friendly personality and his accomplishments in student leadership.
Mr. Morris, who now lives in Tulsa, is a proud member of the Cameron University Alumni Association and encourages all of his fellow Aggies to join and be active.